TL;DR
I built Amy a closed loop artificial pancreas
She's been using it for one week so far
It's great

After getting into the world of #WeAreNotWaiting and Nightscout, I followed with great interest the progression of OpenAPS, a do-it-yourself closed loop artificial pancreas. I read the posts by Dana Lewis and Scott Leibrand with awe, wondering whether closed-looping would ever be something Amy might want.
If you've not heard about OpenAPS you might want to do a little reading first. In essence a matchbox-sized computer reads CGM data, figures out what temproary basal rate (TBR) could be used to help get levels on target and tells the pump to do the relevant TBR. If you're worried it's not safe, think again after reading this.
Back in October 2016 I decided I should gather the necessary kit together and should Amy ever want to close loop I'd be in a position to help. I'd need an old Medtronic pump, an Intel Edison chip and an 'Explorer' board. I sourced my first pump from eBay, it was no good, it was dead. The second was better and usable but I sourced a better third one, a 715, which I got from the Netherlands after asking all the right questions and requesting videos of it working.
I let Amy know that I had the kit should she ever be interested; she wasn't. All the kit sat in a draw patiently waiting in a box adorned with a #WeAreNotWaiting sticker. Oh, the irony.
Last November I went along to a DIY closed-loop artificial pancreas build event hosted by the UK looping commmunity's Tim Street, a tremendous driving force behind helping others to close the loop themselves, or understand and learn about it, or understand many different things about diabetes, plus he's written a great guide to closed looping.
I had no intention of building anything but I went for the chat and to see what was happening, but I took my kit pieces with me. I came home with an almost working closed-loop artificial pancreas!
Amy seemed more interested now she could see something working.
Amy wasn't using CGM at the time but my friend Alasdair let us use his CGM data from his Dexcom account to help me test, test and test the rig I'd built. It was working tremendously well, I watched in awe is it made the temporary basal rate changes which were sent to the pump – containing water and not attached to anyone.
A couple of weeks later my friend Craig gave us a G5 transmitter to help continue testing which I wore, along with the 715 pump pumping water for a few weeks. Thankfully my phone using xDrip+ worked well to collect the Dexcom G5 readings and my CGM trace was illuminating, a 'normal' person's glucose line certainly isn't flat, especially after eating my nemesis which is clearly bread.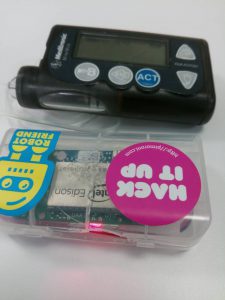 It still wasn't the right time for Amy, so I waited, applied no pressure and just hoped one day she'd ask to use it.
That day happened the morning after the Rise of the Machines event when Amy watched the presentation videos of me and then OpenAPS's founder Dana Lewis, whom I had the great pleasure of introducing to Amy only a couple of days earlier.
Roll on a week and Amy went live on her rig 'Dean' (Supernatural reference) which tells 'Castiel' (the 715 pump) what to do. It's been a full-on learning week, with tweaks here and tweaks there.
We started cautiously, setting the target range to 7.0-7.5 mmol, something we'll drop later when Amy's feeling more confident. It's doing very well and every morning is like this:


It's already offering an improvement to less time spent hypo, or rapidly changing BGs, or standard deviation. More importantly Amy is having to make less decisions, or reactive actions. It's important to remember this is the end of week one with a target set to 7.0-7.5, so it's easy to see how A1C – if that's what you're worried about – can be lowered by dropping the target range.