A couple of weeks ago I attended a training course with Diabetes UK in London, as I'm soon to become one of their Peer Support team. I'm not going to write about the training itself as for confidentiality reasons that's between those of us on the course but there's one part of it we did which made me (and a few others) think about life since diagnosis.
Your journey since diagnosis
Just before lunchtime arrived we were asked to search our soul to find out how we really feel about our lives with diabetes and whether it would raise any further questions, or highlight anything we needed to explore further. This seemed to be a good thing to do as unless we know and understand our own journey how can we help any of the newly diagnosed cope with the early days of their journey.
Urrgghh! Drawing!
Drawing lines on a piece of paper doesn't come naturally to me but I felt comfortable with our diabetes journey and drew my picture of troughs (and troughs) and peaks (and peaks and peaks).
I started on the left of the page in the middle but soon wish I hadn't as I ran out of room.
I'd finished way before everyone else and my mind wandered back to a Technical Drawing lesson at school when I proudly approached the teacher asking what to do next, the teacher took one look at my drawing and suggested that I'd finished before everyone else as I'd neglected to do it properly.
I checked my chart. No, we're good, I'm happy with that.
Diabetes improves our life. What? Really?
Here's my chart – which may not be drawn to scale whatsoever.
Hover over the yellow buttons to see what happened at that point in time.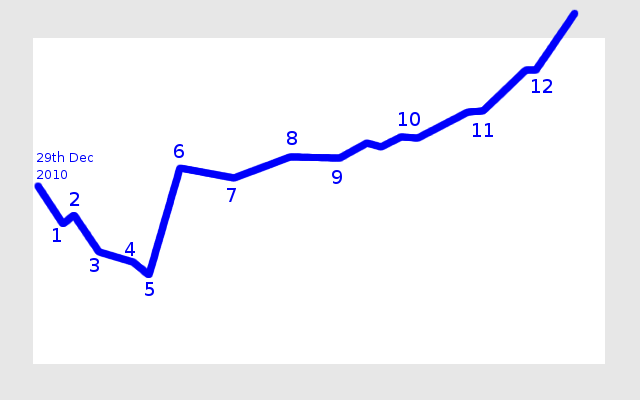 At
diagnosis, our mood dropped, trying to come to grips with coping with type 1. Thoughts of cancelling the trip to India also got us down.
Lunchtime chat: could this journey really be accurate?
Another peer supporter, Nick Guerin (who won this year's Quality in Care Diabetes Peoples' Award) and I were chatting at lunchtime and talked about our own charts, which amazingly weren't dissimilar, strange considering our journeys have been quite different. Nick's blogged about it in his own blog Type Aware.
We both quizzed our own charts' finishing positions: could it really be right that we both thought we're in a better place now than before diagnosis. It seems crazy but actually I do believe it's right.
I believe having diabetes has made Amy more determined to do well, to beat her peers in activities, to be thankful for what she has and can do. I feel I'm doing more things for others than I ever did before diagnosis too.
Having said this I'd be much happier right now if diabetes would bugger off.
Go on, have a go yourself
Why not draw your own journey since diagnosis and see how you get on. You may be surprised how you actually view your journey and it may raise some questions for you to explore.
Everyone's different and there's no right answer, this is just for fun.