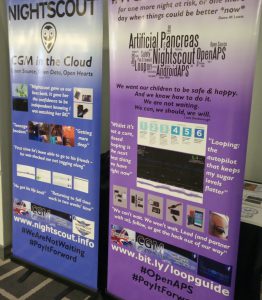 It's been a year of changing pumps and a year of trying to change pumps.
It's been a year of talking about #WeAreNotWaiting and a year of trying to talk about #WeAreNotWaiting.
Things are set to change quite soon.
It's also been a year when Amy started looping, which is all just magical.
A few little things
Fundraising efforts for this year topped £14,000, for the team of 12 Diabetes Dads who were part of the London to Paris cycle trip I organised this year.
On 11th October I was proud to release the beta version of the T1Resources.uk Tech Dictionary, which I'd spent a few weeks creating. It launched to a lot of interest both by HCPs and PWDs – if you're not sure what those acronyms mean then look them up in the dictionary 🙂
On its 6th birthday this blog has topped 172,000 views, despite its lack of posts this year.
Changing Pumps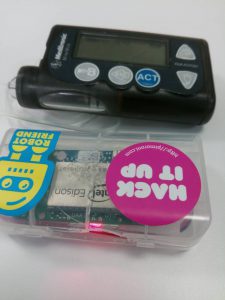 Amy's had a few pump changes this year:
Vibe -> MM715/OpenAPS -> DanaRS -> Vibe -> DanaRS -> DanaRS/AndroidAPS -> Vibe -> MM715/OpenAPS
At the time of last year's World Diabetes Day / Blogaversary blog Amy was using her trusted Animas Vibe pump, which at that time was 5 months out of warranty. We were waiting – ah, the irony – for the right pump to come along, for the right choices to become available.
After watching mine and Dana Lewis's talk at Rise of the Machines Amy decided that she wanted to use a DIY closed-loop system, using OpenAPS. I'd had the pump since late 2016, sat in the draw waiting for Amy to decide she wanted to use it.
Within a week she was up-and-running with it and it was working well.
July saw Amy start her trial of a Dana RS insulin pump for 4 weeks just using the pump and its phone app to control it, then she used AndroidAPS with the pump for another two weeks. Unfortunately the first DanaRS broke on a Friday in France, so Amy wore her backup Vibe until the new DanaRS was sent to use on the Monday. The Dana RS trial was a success.
She went back to her Vibe for a couple of weeks before going back onto her Medtronic 715 and OpenAPS when she put her next CGM sensor on.
Trying to Change Pumps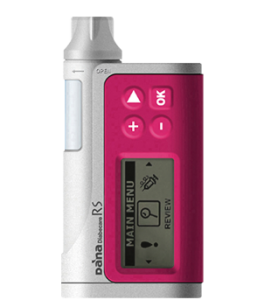 In September 2017 we requested to see the DanaR pump, but with a DanaRS due to be released we decided it was be best to wait (!).
I don't want to disclose all that happened but in summary, the team were (quite rightly) wary of a pump they'd never heard about, so it took some time to convince them it was worth looking at.
We had some – let's call them – discussions which got to the point of the team thinking we would move on to another clinic. I responded with this, which became a turning point in the discussions: "there's no way I want to consider moving Amy elsewhere, however I'm very passionate about her receiving what we consider to be the best available pump on the market".
My key message to others in this situation is: your team have a duty to make sure anything they provide is suitable; PWDs and parents have a duty to make sure their voice/opinion is heard and respected; there's rarely a decent reason for a patient not to get the pump of their choice; there's a rarely a decent reason for a CCG to not go with a Doctor's pump recommendation; it just takes time and effort.
Amy receives her new pink DanaRS on the 29th November.
Talking About #WeAreNotWaiting
The day after WDD2017 Amy spoke at DPC17 in Olympia, her most important event so far, and alongside the lovely Philippa Cooper and Dr Sufyan Hussain.
This year, between us both, we've spoken at 10 events, to over 700 people.
Crikey!
Much of this is to HCPs which we do for one reason: so that it lets them know about what patients are doing so if one of their patients starts on it the HCP has a good understanding, which should help them support their patient.
The most recent one for me was at the Type1AndTech conference in Swansea last Saturday and if you're interested the sessions were videoed.
Trying to Talk About #WeAreNotWaiting
Saturday's Type1AndTech conference was a breakthrough, being the first time (I think) anyone has spoken about WeAreNotWaiting to an event organised by a UK Diabetes charity, namely Diabetes UK.
The landscape is changing, hopefully thanks to all the awareness so many in the UK, like us, are giving to organisations and HCPs.
Next Saturday my friend Craig will be talking about WeAreNotWaiting at the JDRF Leeds Discovery Day and I hope this will be the start of many events where PWDs/carers can talk about such technologies.
And finally…
I recently discovered this video again, it makes me laugh, a lot.