No I'm not referring to the wonderful set of friends within our local Hampshire/Dorset Sugarbuddies support group, but to the performance of Jade Byrne's show Pricks. The Play.
"I've had over 70,000 pricks… of the medical kind. This is my chance to set the record straight about type 1 diabetics like me. Despite what people say, I'm not bankrupting the NHS. And I can eat a cake – a whole bloody cake – if I want to."
I'd seen it before, at TAD2019, along with my daughter Amy. We both enjoyed it and thought we'd go and see it again when it toured nearby. That was last night in Bournemouth, but typically the rest of my family were away, so I jumped at the chance to go with the Sugarbuddies support group I helped set up many years ago. I've been neglectful of Sugarbuddies for the last year, related to the lack of involvement I have in general Type 1 care for Amy, she does it all herself.
Even before the show it was a good night out, with a long chatty car journey with people I knew and people I didn't, and more to follow in the bar before the show.
Wearing my 'Deliberately Non-Compliant / WeAreNotWaiting' t-shirt – which only comes out for diabetes events – I was spotted by a lady who saw me present at the JDRF Discovery Day in Southampton in March, and it was nice to hear how positive she found that event.
On to the show, which even watching for the second time, I thoroughly enjoyed. There were laughs a lot of the time, some gasps and an awful lot of nodding in agreement. The partially renovated Shelley Theatre must have been slightly dusty – ahem, not really – because at some points my throat felt tight and I could see others' eyes were affected, coinciding with some of the sadder parts of the play and its tales of either Jade's or others' experiences.
Most of the audience had a connection to diabetes in some form, such as the guy sat next to me. "Do you know much about Type 1 Diabetes?" I asked. "I've had it twenty years" came the reply, before we had a nice chat about Sugarbuddies and what we're trying to do with it.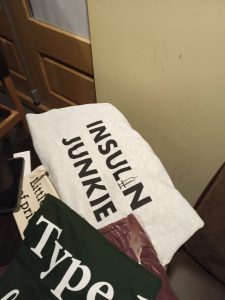 For those who had no connection to Type 1, and for those who do, Jade held a Q&A session (luckily in the bar) after the event. What a great idea I thought, and it showed as people asked her questions and looked at some of the merchandise she had for sale. I stupidly sent Amy a picture of the Insulin Junkie sweatshirt to see if she'd like one, she did, I bought it – I should really keep away from Messenger, it would save me some money.
Although, this year's tour dates are almost at a close I'd thoroughly recommend keeping an eye out for future performances.