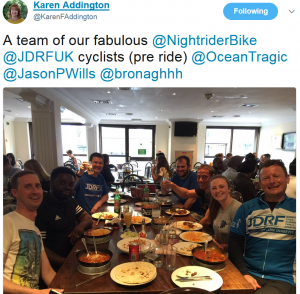 Once again some of my Diabetes Dad friends and I rode in the London Nightrider, as we did last year when we had a huge group. Whilst the group wasn't so large this year a good few thousand pounds was raised by the other Dads. I didn't raise any money this year as I had a free place after coming to agreement with the event organisers who in turn used lots of my previous year's video as promotional footage.
Yet again we had a great meet up and curry at Lahore Kebab House long before the ride and we're really pleased that not only did JDRF challenge event organiser Bronagh come along but JDRF's CX Karen too. It felt great to be supported and their support spurred us on for the ride.
What interested me this year was that two-thirds of us were using Nightscout and we had a bit of fun reporting on our kids' glucose readings throughout our ride.
We had lots of fun.
Take a look.