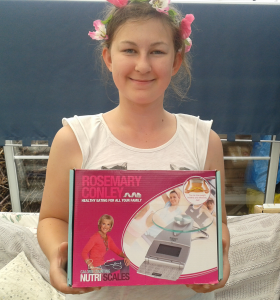 Amy shows off the carb counting scales she won at the SweetMeet
In the middle of a busy weekend – clinic yesterday, TeamBloodGlucose cycle ride tomorrow – Amy and I had an invite to the second SweetMeet organised by the team at Portsmouth's QA hospital. For us it was another privileged invite being personally invited by Dr Partha Kar for the second year running.
Amy and I met Laura and Tanwen as soon as arriving, then with a breakfast bacon butty in hand had a nice chat JDRF's Sue and DRWF's Lee. Helen the pump rep from Roche was there and to our surprise our Animas rep Emma arrived, pleased to see Amy and to hear that she was getting on well with her Dexcom CGM, which Emma trained us in only two weeks ago. It's really lovely coming to events like these and knowing so many people, it's like one big family.
Kicking off with a great team
SweetMeet2 was officially opened by Lisa who referred to herself as just a nurse before introducing the team who had given up their spare time. With the plan for the day read out Dr Partha Kar stepped up to start the day off, but before doing so he praised lead nurse Lisa for the dedication and hard work she puts in keeping the department running.
66 years and the future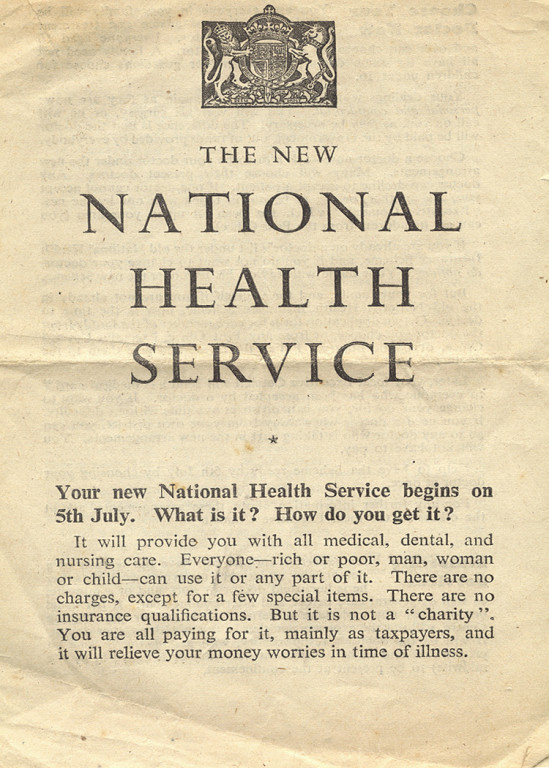 With the NHS being formed 66 years ago to the day Partha outlined the changes in the NHS and in particular funding, explaining that funding had been matched to requirements from 1948 until a few years ago when funding plateaued, starting a funding gap which is unlikely to close any time soon. But there is hope and it will be found by making sure the right people perform the right jobs, freeing up the Wizards (Consultants) by getting the Gatekeepers (GPs) to perform the tasks they can – these references coming from Nigel Mathers and Paul Hodgkin's 1989 story about the NHS "The Gatekeeper and the Wizard"
Speed-dating with the professionals
Next up it was time to speed date with the professionals, with the audience staying at their tables and professionals moving around the round to ask/answer questions during each 7 minute slot. Seven minutes goes very quickly when questions are being asked and it's amazing how much you can cover during that time.
The podiatry and retinopathy sessions explain a lot about the processes that we know very little about and gave answers about what you should expect (nerve tests on bottoms AND tops of feet) and by whom (GP surgery nurse).
Partha did a session and an important message came across: people can and should help themselves, a message I've lived by since discovering the #DOC (Diabetes Online Community). The bigger question though is how to get those not already engaged to become so as those at the SweetMeet were clearly engaged already.
My favourite speed date
My favourite speed date – this sounds awkward 🙂 – was with Dr Iain Cranston, who chatted about Abbott's Flash Glucose Monitoring, something I'm looking forward to being announced officially in September at EASD in Vienna – like many I've had an invite to go but can't quite justify it. It has the potential to revolutionise finger-stick tests as it promises to do away with them, instead relying on swiping a NFC device across a sensor which is changed every two weeks. I didn't think much of this technology initially but when I realised that it stores the last 8 hours of tests I realised it could be used as a non-alerting CGM, which is just fantastic. Fantastic that is if Abbott pitches it at a price to rival meter strips.
Breakout session 1: are all carbohydrates equal?
This year saw the introduction of two breakout sessions, with Amy and I going to the one of carbohydrates.
With a session of 45 minutes, 15 people and two dieticians it was like being a kid in a sweet shop, although obviously the first rule of SweetShopClub is that you don't talk about sweets in front of dieticians. 🙂
Starting off with some simple carb-counting we moved on to GI which raised some interesting discussions, based bolusing for low-GI and wave bolusing techniques for pump users.
It was the first time I've been able to talk sensibly with a dietician about LCHF (low carb high fat) diets, their effect/usefulness and more importantly whether they're suitable for kids, or can be adapted to be so.
Breakout session 2: new developments for type 1 diabetes
Dr Iain Cranston held our second breakout session which started with us all stating the new developments we wanted to know more about. With islet transplants and stem cell research already on the board (two things which could go hand in hand to get people off insulin) I offered a couple of other things: smart insulin and inhaled insulin.
Dr Cranston's knowledge of developments is great and filled us all in on each of the developments, answering my questions about beta-cell replacement whilst super-T cells still exist.
How often do you get the chance to ask questions like this, that's the beauty of something like the SweetMeet. I have a feeling that if the allocated time hadn't run out Dr Cranston and I could have chatted about stuff like this for hours.
A patient's experience: educate yourself
Lee Calladine, spoke about his life with Type 1 diabetes which he was diagnosed with aged 33. As DRWF's Event Organiser Lee organises events such as the DRWF Wellness Day South which I attended two weeks ago as well as last year.
Lee's message fitted in nicely with Partha's: educate yourself, find out about your diabetes and your gains will be great. Since educating himself Lee feels more in control, has got his HbA1c lower and minimised his risk of complications and that's something we all want.
Thanks Sue
The second SweetMeet was a huge success in my opinion and Sue, one of QA's dieticians, should be thanked by all who attended for organising a great event. Well done Sue, we really enjoyed it.
And finally, Amy wins another prize
At last year's event Amy won a bottle of champagne in the carb counting quiz, which of course was commandeered by myself and consumed shortly thereafter. With high hopes she entered this year's quiz and alongside a few others won another prize, this time a set of Rosemary Conley Nutritional Scales which will hopefully be very useful for carb counting.
Here she is with them: