Yesterday I attended the first ever Diabetes UK Professional Conference (DUKPC) Insider conference, a spin off from this year's annual 3 day professional conference which is open to only healthcare professionals (HCPs). The Insider was specifically for people with diabetes (PWDs) to attend.
TL;DR
Diabetes UK held an event for people with diabetes (PWDs) to hear some of the presentations held at their 3-day professional conference.
It was great.
I hope it's the first of many
A bit of backstory
A few years ago no PWDs really attended the DUKPC, then Diabetes UK had the foresight to invite some lucky PWDs/carers who tweeted and blogged lots of information from the conference. This was great, there was such an appetite for the information.
For the following few years 5 PWDs/carers attended the DUKPC as winners of a bloggers competition and they all did a brilliant job of getting information out to us PWDs and carers.
This year, typically the year I was going to enter the bloggers competition for the first time, Diabetes UK decided to hold the Insider event, with the aim of effectively allowing 250 – not 5 – people to attend.
It was a good decision Diabetes UK, bravo.
Even the weather couldn't stop us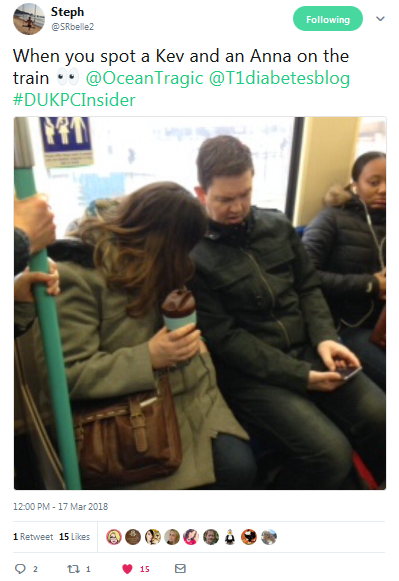 With forecasts of a mini-blizzard hitting London I did wonder whether that one snowflake would mean all roads would be closed towards London, but I set off at an eye-blearing-6am, picking up my friend Anna on the way.
Once in London it wasn't long before the inevitable PWDs-on-the-same-train happened, with Steph capturing me explaining Amy's #OpenAPS to Anna.
Even the weather didn't make us Grumpy…well maybe one
I couldn't miss out the fact the DUKPCInsider gave me the chance to meet Chris, aka GrumpyPumper, for the fist time. I've known Chris for around 6 years now and somehow we've never found ourselves at the same event, which is remarkable as between us we've probably got them all covered.
It was a pleasure to finally meet the man who cheers up twitter when it's down.
Wow, what a programme
The programme for the event was great and I was particularly pleased to see the calibre of presenters. Us Insiders heard from some of the most brilliant Doctors and Professors, the people at the top of their field.
The opening plenary from Professor Hattersley was outstanding, telling us all about the many types of Diabetes, told to us in a way that could be understood by the likes of me with my one O-level grade C in Art.
I'm not going to go through all the speakers sessions but each and every one was excellent and I felt privileged to be able to listen to them.
I can't not talk about the tech though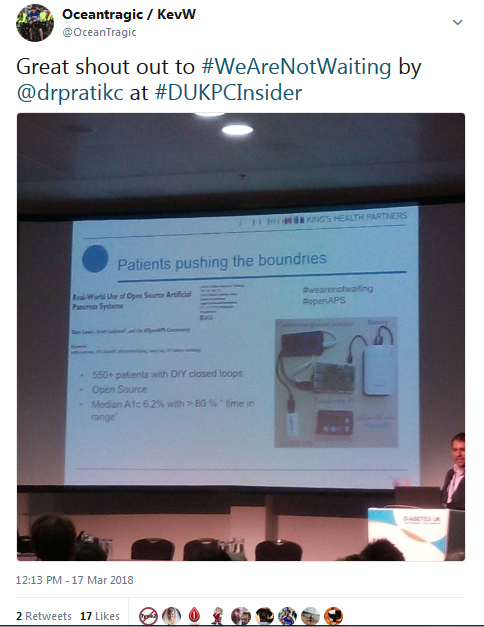 It's always a pleasure to listen to Dr Pratik Choudary speak, I love that he understands that achieving 100% time-in-range is an impossible dream for most, that 80% would be fantastic and that even his working pancreas doesn't stay in range. I love that Pratik let's his patients know about tricks he reads from PWDs tweets on Twitter.
I found myself nodding along in agreement with all his slides but couldn't contain my happiness to see the slide on the right.
Later it went one stage further when in Dr Helen Murphy's session about artificial pancreases she spoke about what the patients are doing and spoke about #WeAreNotWaiting and #OpenAPS again.
It so lovely to hear how much respect clinicians have for patient-led things. Bravo.
After Helen's talk I went over to thank her and I was bowled over by everything she had to say about #OpenAPS's closed-loop AP.
In the panel at the end #OpenAPS got another nod, this time from everyone's favourite doctor on Twitter, Dr Partha Kar, when asked about the future for diabetes.
Three times in one event, I was honestly so surprised, and pleased.
A plea to Diabetes UK
Please, please run this event again.
With the conference being in Liverpool it will give the opportunity for many different people to be able to attend.
A final thank you
To Robin, for your talk about stigma and language, and inevitably one about Park Run which I thoroughly enjoyed. But thank you mainly for your tireless efforts to help bring events like this to fruition.
And finally
Having spoken with Chris Askew, Diabetes UK's CEO, at the event I know Diabetes UK have ideas on how to further expand knowledge sharing. I'm really pleased to hear they're looking at this.
I do think there's scope for having a bloggers competition and the Insider event together and I hope they consider this for next year.