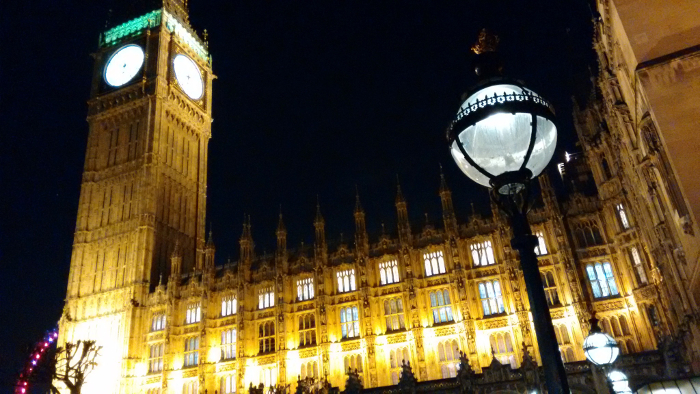 Through INPUT Diabetes I got a chance to get to see the Palace of Westminster for the first time AND talk about diabetes tech to anyone prepared to listen. Two birds, one stone, what could have been better. Well actually I attended another great event afterwards too – blog coming soon – , so three birds, one stone, if that's a thing.
The Medical Technology Group's event yesterday was hosted by John Pugh MP and part of the group's Medical Technology Awareness Week. The event sought to get people together discussing technology used to help people manage their conditions. Type 1 Diabetes is clearly a condition which has benefitted from the tech available, in fact it's hard to imagine a life now without it. Of course I realise how lucky we are to have all this, in fact I realise how lucky we are to be able to get insulin without issue.
Matt and I travelled up together and arriving at Parliament all suited up I cursed ignoring his advice to borrow a coat as 'it's bound to rain', as it did, just as we were waiting at security under a torrential sky; so I entered Britain's seat of power drenched and dishevelled. Through security tighter than Paris last weekend and into the main Westminster Hall and meet our friend Alistair (Samuelson) and all took a sneak peak at the MPs discussing things in the House of Commons.
On the day before I left I tweeted to several MPs from my local area: Mim Davies MP as she's my local MP; Caroline Noakes MP as she's a neighbouring MP and I knew she had an interest in Diabetes; Suella Fernandes MP as she's the MP for where I work. Suella was not in London that day but I was amazed to get responses from Caroline and Mim – am I allowed to refer to them by their first name, what's the protocol here?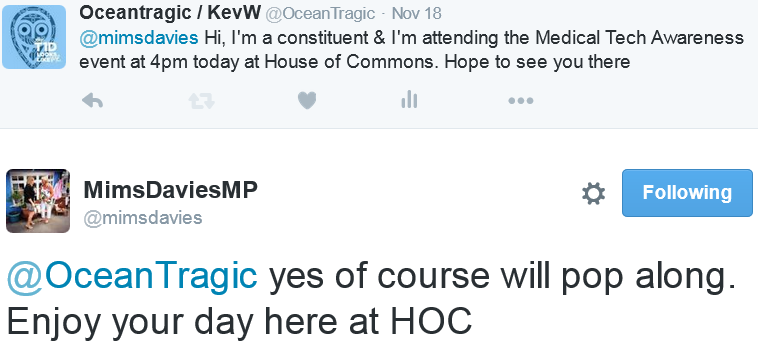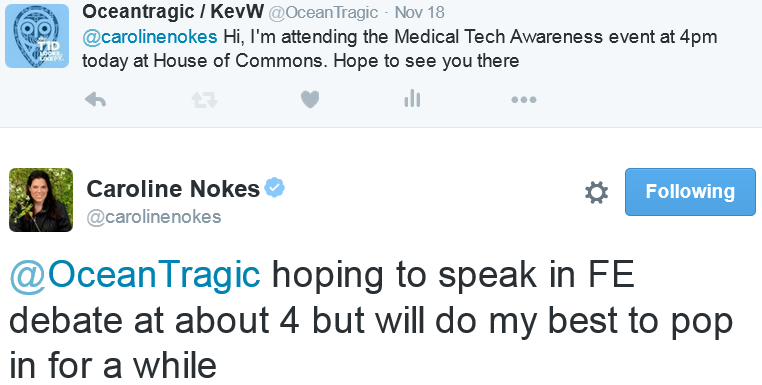 The event was held in the marquee overlooking the River Thames, a marquee I've seen so many times from the other side. Collecting my badge I heard my name mentioned, an MP was here to see me. Crikey! Already?
I spent a good few minutes speaking with Caroline Noakes MP about Amy's diabetes tech, talking about how Amy's pump is life changing and she'd never give it back. Caroline has an interest in Diabetes, I've seen this often in media articles and events, and it made explaining things a lot easier. Unfortunately though Caroline had to go to speak in the Further Education debate happening in the House so our chat didn't last long but I was very grateful for the chance to discuss the life-changing tech Amy uses.
Off to find the insulin pump table provided by Roche where Matt, Alistair and I chatted with Lesley (INPUT) and Philippa, whom I know from the #DOC (Diabetes Online Community). Philippa had been before and this time was one of the speakers; she admitted to being nervous and I knew exactly how she felt from when I did the Nightscout presentations a few weeks ago. I knew Philippa would speak well, she's a very level-headed, knowledgeable patient advocate and hearing her speak I felt quite proud of what she was doing and saying. The audience was engaged, people didn't leave the room, they didn't shuffle about and whisper, they were held there listening attentively to her story, to effectively Amy's story, to the story of many of my friends. I thought she could do with some praise from the #DOC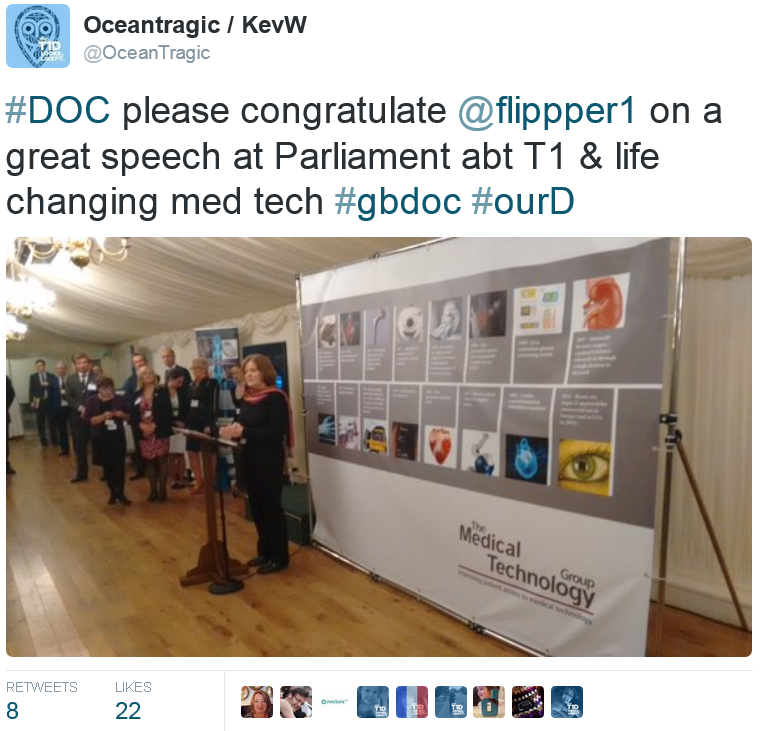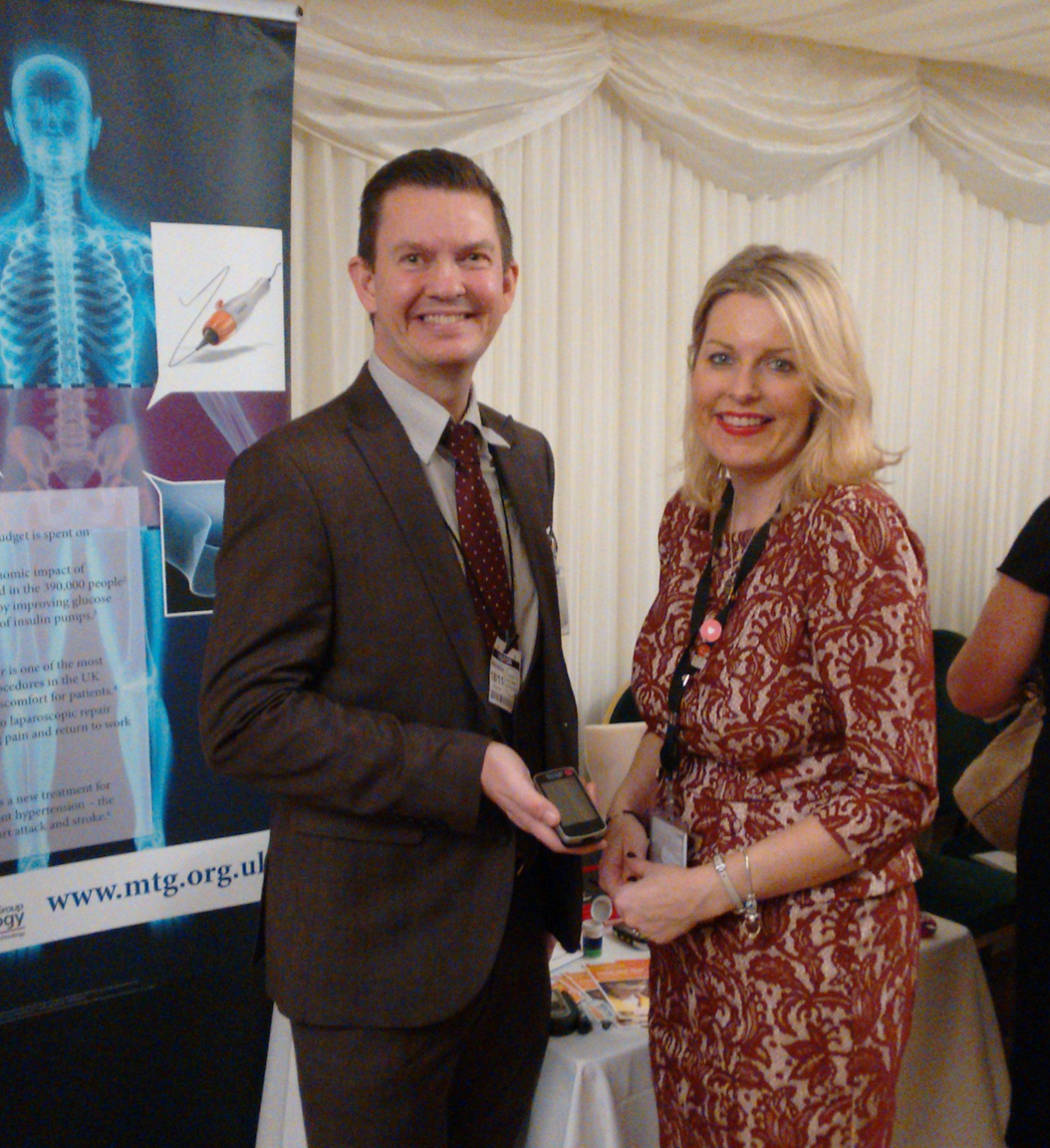 My MP, Mim Davies, returned for a chat and we spent a long time talking about the medical tech which is life changing for Amy, how we get some of it from the NHS and how we self fund CGM. I couldn't help but show her Amy's glucose readings on my Pebble watch and go into (probably too much) detail about how Nightscout is an unfunded parent driven group with 15000 worldwide families using Open Source software. Mim seemed quite impressed with the whole thing. We chatted in general about Type 2 Diabetes as through my research I knew Mim had recently met with Jamie Oliver about the sugar tax proposal and I mentioned that this would cost people with Type 1 Diabetes more as sugary drinks are also life saving medicine when hypo.
I loved this event and would encourage you to go to it or similar if you ever get the chance.