Okay, I know, it's really World Diabetes Day but for reasons which will become clear later I'm calling it Global Diabetes Day this year.
It's been in some ways a busy year, in some ways a quiet year, since 2016's World Diabetes Day blog.
It started with Amy and me presenting Nightscout, WeAreNotWaiting and DIY artificial pancreases to the team at Oxford in January and ends (almost) with Amy presenting with Dr Sufyan Hussain at the Diabetes Professional Conference 17 at Olympia this coming Thursday and me lecturing at South Bank university a few days later. I've been really pleased to meet so many teams and HCPs who want to know more about what patients are doing and one day, who knows, I might actually feel comfortable presenting. Nightscout UK had a great weekend at the Children With Diabetes Friends for Life conference in October where we used for the first time the roller banners I created. October saw Amy and I attend the QiC Diabetes Awards which I helped judge this year, walking away with a Winners trophy for T1 Resources and collecting the People's Award trophy for my friend Sarah Davies who works tirelessly supporting families and adults who are using Nightscout.
Enough about us, and back to Global Diabetes Day.
On Saturday I went to the premiere of the #T1DGlobal17 video, a day for people with diabetes and carers, organised by Gavin Griffiths, who had been sponsored by Sanofi Diabetes to visit lots of different places around the world, chatting to T1 groups and doing some exercise classes and events with them. Saturday saw the premiere showing of the film of that trip but Gavin made the day much more than that, including multiple panels of people discussing different topics. I was astounded at the work being done by all (Chris, Bri, Sara, Shelley, Rebecca) but the standout for me was Jacq for the amazing work she has done with DWED (Diabetics with Eating Disorders) for people with Diabulimia, a condition some few have heard about but a condition that as a parent of a teenage daughter with Type 1 I have previously worried about.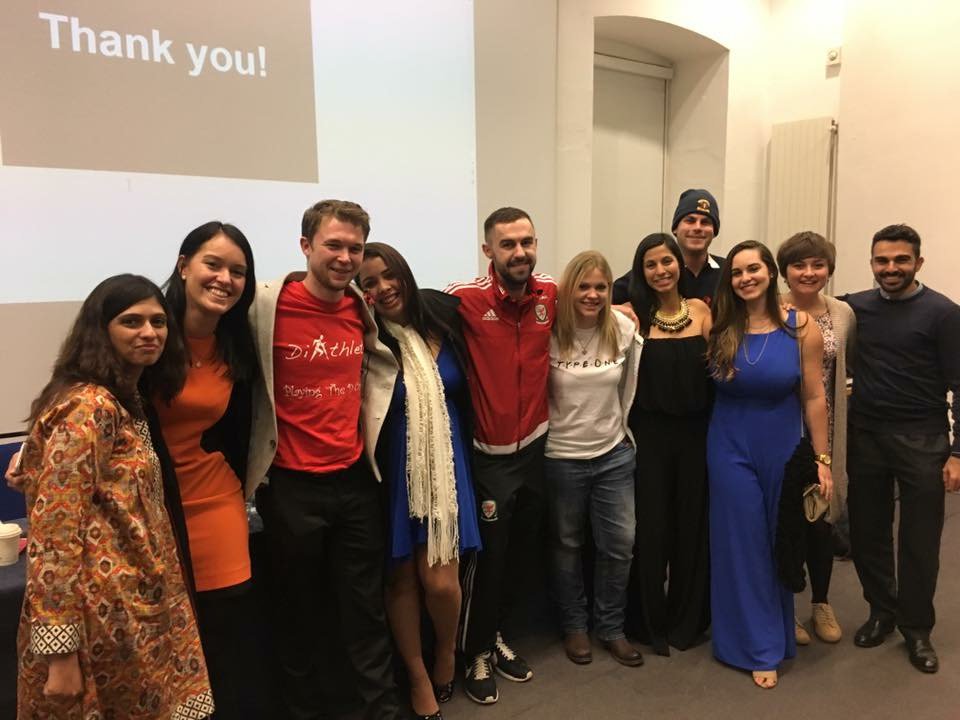 The best part of the day for me came later when Gav's League of DiAthletes took the stage, each one telling us what life was like for a person with Type 1 in their countries of Ghana, Kuwait, Pakistan, Brazil, Costa Rica, Australia, Ghana and the Republic of California as Gav liked to call it. The stories range from good to bad but they had one thing in common: the work being done by the people for the people was amazing. Communities pulled together to help others live their lives. The world is a much better place because of the likes of Fred, Mohammad, Sana, Naty, Dani, Paula, Lucas, Nikki and of course Gav.
It made me think a lot, it was very humbling.
Here we are looking at which insulin pump Amy is going to get next, arguing for the pump we want rather than what the clinic have offered, having the options to try the latest insulins, deciding whether Amy prefers this cannula or that, this meter or that, this insulin or that. We moan about not having funded CGM, or currently the lack of CCGs funding Libre. At no point ever have we faced the issues that any of the League of DiAthletes face every day. We don't need to fight for anything that Amy actually needs – not wants – to live. We are very privileged to be in this position. We are very privileged to have the NHS.
And that leads me on to one of my favourite speakers from Saturday, Elizabeth Rowley who runs T1International. Elizabeth, wearing her t-shirt emblazoned with 'Access to Insulin is a Human Right' spoke about the fantastic work T1International is doing, about their work with the #InsulinForAll movement which has always been brilliant but even more so now with the crisis our friends in USA are facing with the cost of their insulin, a so-called rich country where people can't afford insulin. It's mad.