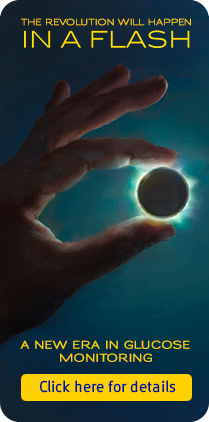 Hype
With Abbott's Freestyle Libre launch at the EASD conference on Monday the excitement in the diabetes online community is hotting up, with some getting their hands on the device already.
(If you've not heard of Libre before perhaps read this: Abbott Freestyle Libre Flash Glucose Monitoring: no more fingerpricks?.)
The full facts about the product are not yet out but there's quite a lot of rumours going around and the following seems to pop up all over the place:
– Cost, the initial starter kit will be £135 and will include two sensors which cost £48 each thereafter.
– Sensors, last for two weeks, no more, no less.
– NHS will initially not be funding Libre although there are funded trials going on and may well be special cases for individuals.
– Libre will only be available to 18 year olds and over, the kids licence will hopefully come along soon (I've heard that before).
Here's a video from Abbott about getting started with a Libre, including inserting a new sensor which seems very easy:
httpv://www.youtube.com/watch?v=8cK046ORpog
Hypos & Hypers
We've started using CGM (continuous glucose monitoring) alongside Amy's Animas Vibe pump to help with hypos and hypers. The CGM alerts whenever Amy goes high or low, Libre won't do that.
We use CGM to get data to recognise patterns and make adjustments to Amy's insulin pump's basal profile. Libre will do that.
We experiment with different combo/wave boluses for different foods and view the results on CGM to see how to do it better the next time. Libre will do that.
In a hypo situation it's crucial to know whether the most recent treatment of glucose is working and levels are coming up, CGM doesn't react fast enough so isn't used for this only blood checks will do. This will be interesting how Libre compares to Dexcom as Dexcom samples every 5 minutes and has about a 5 minute lag, so you could be up to 10 minutes out. Libre though samples every minute but what is it's lag? If it's close to Dexcom then it might be up to 6 minutes out, but if it's closer to older CGMs it could be up to 16 minutes out.
Hope
Without seeing results of trials this product gives me hope for Amy's future, hope that technology is moving so fast at the moment that even without a cure her life will be more bearable on a day-to-day basis, more hope that this will lead to lower HbA1c's (without hypos/hypers) and no complications.
Day-to-day it might be able to relieve the soreness of her fingers.
During the night it will mean we can check her levels more easily when she's asleep. She has a habit of lying on her pump which means I can't get to it without waking her up.
I hope that this device becomes a mainstream alternative to fingerstick tests and NICE/NHS will fund it on the basis of a lot less test strips being used. I would also be happy to co-fund it like others in my clinic do for the Omnipod insulin pump.