Amy's been using #OpenAPS (closed loop artificial pancreas system) since March and it's been working very well, with some impressive results such as waking up in range without fail and without intervention every morning. Her set up includes a Dexcom G5, her phone (Xiaomi 4X), her OpenAPS rig (Edison/Explorer) and a 10 year old Medtronic 715 insulin pump. The only real issue we've had is bluetooth connectivity which we've resolved very well.
So, OpenAPS is excellent and gives great results, but Amy's pump is six years out of warranty already, might possibly break at any moment (unlikely) and the backup pump (Medtronic 712) is even older than the primary one. The dwindling supply of loopable old Medtronic pumps makes me nervous so for a while now we've been looking at alternatives.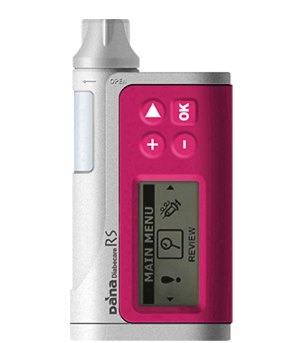 Say hello to the Dana RS. A brand new insulin pump which can be used with AndroidAPS – which is based on OpenAPS code – and most importantly retains its warranty even if being used for DIY closed looping. AndroidAPS runs on an Android phone and communicates directly with the CGM source (Dexcom G5 in Amy's case) and the Dana RS pump, no other hardware is required and most importantly there's nothing which needs charging or could be forgotten when leaving the house each time. The potential to control the Dana RS using an official phone app from an Android phone (or iPhone if you really must 😀 ) is a great step forward, although its unlikely she'll use this when she's wearing CGM as AndroidAPS will be controlling everything. It is the only pump to allow full control via a phone: setting TBRs, doing a bolus, altering settings.
It's taken a while to get here: I first mentioned about the Dana pump at clinic in September 2017 – back then we were talking about it's predecessor the Dana R. I won't go into detail but it's been a slow process of discussions with Amy's team to get to a point where they are happy for Amy to trial the Dana RS pump with a view to it becoming her new pump. It's not a pump they knew about so I can fully understand any concerns they have but (I hope) they came to realise that we knew a lot about it and were confident it was the right pump for Amy at this point in time.
Back on the 12th July Amy got to see the Dana RS for the first time, she was excited. Tom, the Dana rep from Advanced Therapeutics, demoed the array of holders, pouches and holsters which pleased the girl who's missed the trusty clip of her Animas Vibe pump. She was most excited by the 360 degree cannula which spins, hopefully meaning less kinked tubes and less pain during the inevitable moments when tubing meets door handle. Yesterday Tom came to our home to train Amy in everything, with us parents taking a real back seat, and within an hour or so she was up and running.
Day 2 has started, she's alive, we'll call that a win.
The trial lasts one month so we'll keep you updated. We have no plans to involve AndroidAPS in the month's trial but I'm not sure whether we'll stick to that.
To see more about what you get in the kit and find out more about the Dana RS take a look at Andy's Dana RS kit blog.