Woohoo, we're live and pumping
What a long day it's been, but a great one and one which has left us all still smiling.
Welcome to our world…
Dr Sheldon Cooper (Amy's new pump name), or Sheldon for short, or Shelly when he's feeling a little sorry for himself. If you don't know who he is then do a quick Google, he's a character from the Big Bang Theory, one of Amy's favourite shows. If you know who he is then all I can say is Bazinga.
What's in a name?
Dr Sheldon Cooper says he's one of the smartest people alive…and he probably is. He's much smarter than those around him.
He makes many calculations each day and in his own words he's never wrong.
His soul mate is Amy (Dr Amy Farrah Fowler).
On many levels this pump was always going to be called Sheldon.
Our day starts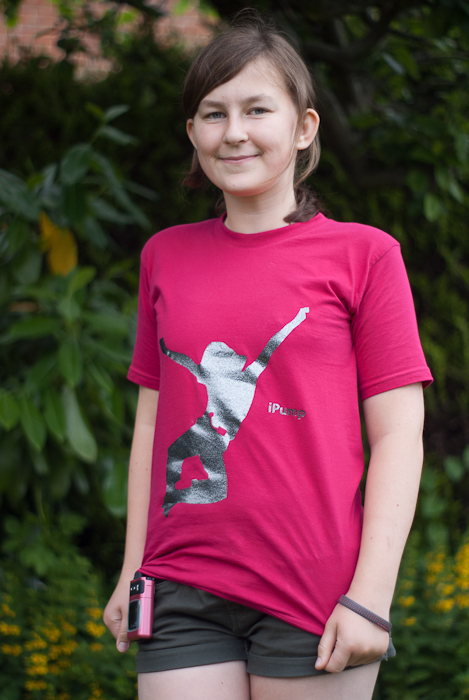 Amy awoke excited at what the day would bring.
I opened a conversation: 'so what are you going to wear today Amy?'
She didn't know which top to wear.
I suggested 'what about this?' as I pulled her new pink DiabeTees iPump t-shirt out of my wardrobe.
I'd been keeping it there for the past couple of weeks, trying not to accidentally tell her I'd bought it.
She put the t-shirt on.
Delighted would be an understatement.
Where's my pump?
In the room today was Emma our Animas pump rep, our Consultant Endocrinologist, the DSN (DSN1) who would be supporting the pump transistion, another DSN (DSN2) who's never used an Animas Vibe and the three of us (Amy, Jane and myself). The room was pretty full.
Emma handed over the massive box to Amy who within seconds had got the pump out, battery in and raring to go.
Such a large box of stuff, but importantly containing 20 sought-after pink cannulas, to match her pink insulin pump and pink t-shirt.
On with the training
Each of us was given a pump and we all went through the menus, primarily for the Dr and two DSNs who had not used this pump before. We are the first people in paediatrics at Winchester to get an Animas Vibe, I think though we maybe be the first of many.
Amy and I already felt quite comfortable with this because of all the training we'd already had with Annie and later with Emma.
Filling up the insulin reservoir
Amy hates needles so I had no doubt that I (or Jane) would be filling the reservoirs for the first few months.
Before we left this morning I asked Amy whether she was going to go into the session nervously or with confidence. We hadn't discussed it much but clearly she'd chosen 'confidence' as she took the filling kit and insulin vial.
Slowly she filled the reservoir with insulin, cleared any air bubbles, primed the pump and filled the tube.
Fitting the Inset II infusion set
Emma talked us through using the infusion set installation, something the three of us were comfortable with as we've all worn one for three days previously. I was surprised that the HCPs showed no real interest as I guessed they'd not used them before.
Amy installed her set with confidence, it had gone in perfectly, but disaster struck as she immediately felt faint. Under advisement from the Doctor she put her head between her knees and within 5 minutes was feeling much better again.
Here's Amy in showing off her pink Inset II infusion set.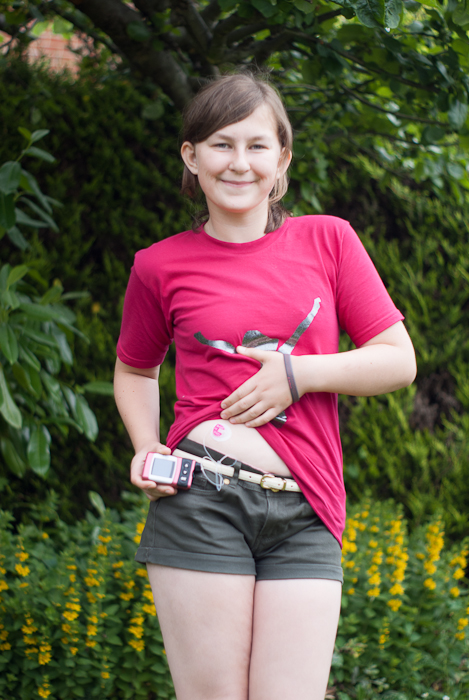 Setting up Amy's pump
The conversation turned to the Doctor and two DSNs as Emma asked them what settings to apply on the pump for basal, and maximum bolus settings and the like. Once they decided, Amy set the pump up under direction from Emma and a close eye from me. I feel confident in setting up basals in the future, although don't plan to do any changes by ourselves for some time yet.
Amy clipped in her infusion set to her cannula, primed the cannula with 0.3 units of Novorapid and that was it: she was live on an insulin pump.
And relax.
Lunchtime calls, bolusing beckons
It was time for a well earned break, it was lunchtime. We decided to go the cafeteria, get some food and bring it back to the training room.
30 minutes later, back in the room and Amy did a blood glucose test, chose ezCarb from the menu, entered her BG reading (4 mmol), entered the carbs (50g), clicked 'Show Result' and instructed the pump to give the bolus insulin (3u).
Success, a first bolus.
Almost done
After a bit more chat about temporary basal rates, sick days and school it was almost time to go, but not before we opened one of the two boxes of chocolates we'd bought for Emma and the HCPs, to say thank you.
The box said it was 23g for three chocolates, Amy had done a test, entered the carb amount and given herself a bolus within seconds.
This is one of the reasons she/we wanted the pump and as for the last 2.5 years Amy refused to have any snack over 10g/15g as she did not want to increase her daily number of injections.
Word for the day?
Brilliant.