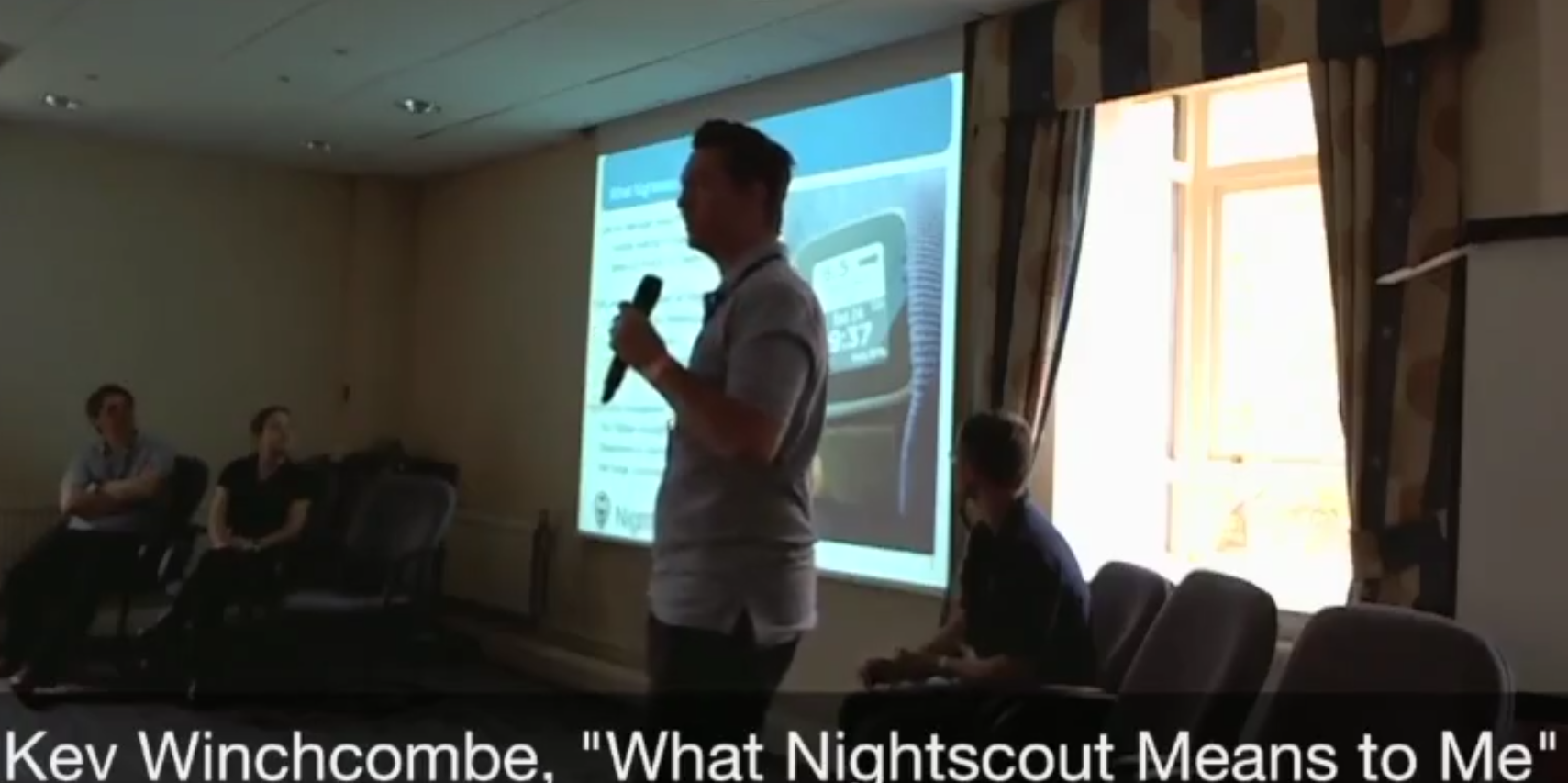 Building a team for Old Blighty
Back in September Wes from the USA based Nightscout Foundation gave me the honour (yep Wes, there's a 'u' in honour 🙂 ) of asking me to join a faculty team they were having at the Children With Diabetes Friends For Life UK conference which took place last weekend. Wes was gathering a team of Nightscout and xDrip users together with the aim of showing families what Nightscout does for us.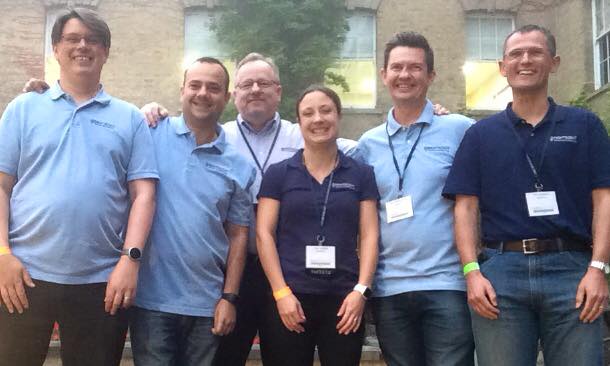 Left to right: Stuart, Jesus, Wes, Kate, Kev, Tim
And so the team was formed with me, Wes, along with Stuart and Kate whose kids have Type1, and Tim and Jesus who both have Type 1 themselves. Jesus is somewhat of a God (bet that joke hasn't been said before eh Jesus?) in the community and flew over from Spain for the weekend.
Then Wes dropped the bombshell, he wanted us to present Nightscout, not just give 1-1 advice and info at a stand. Present! What? Me? "Erm, okay" I said very tentatively. Being on holiday for the Saturday I could sadly only attend the Sunday but the planets aligned as that was the day the presentations were ("Oh great!").
Panicking about presentation slides
At 5am the alarm sounded.
I present often at work and am somewhat reknowned for having whizzy slides full of colour, animation and more importantly eye-distracting graphics which take the focus off of me, but I had a problem as I would have no time to prepare anything as I was on holiday. So at 5am on the Sunday I woke in panic and managed to cobble stuff together and from there on in I felt relaxed, I had a plan, I had slides, I was ready.
A team as one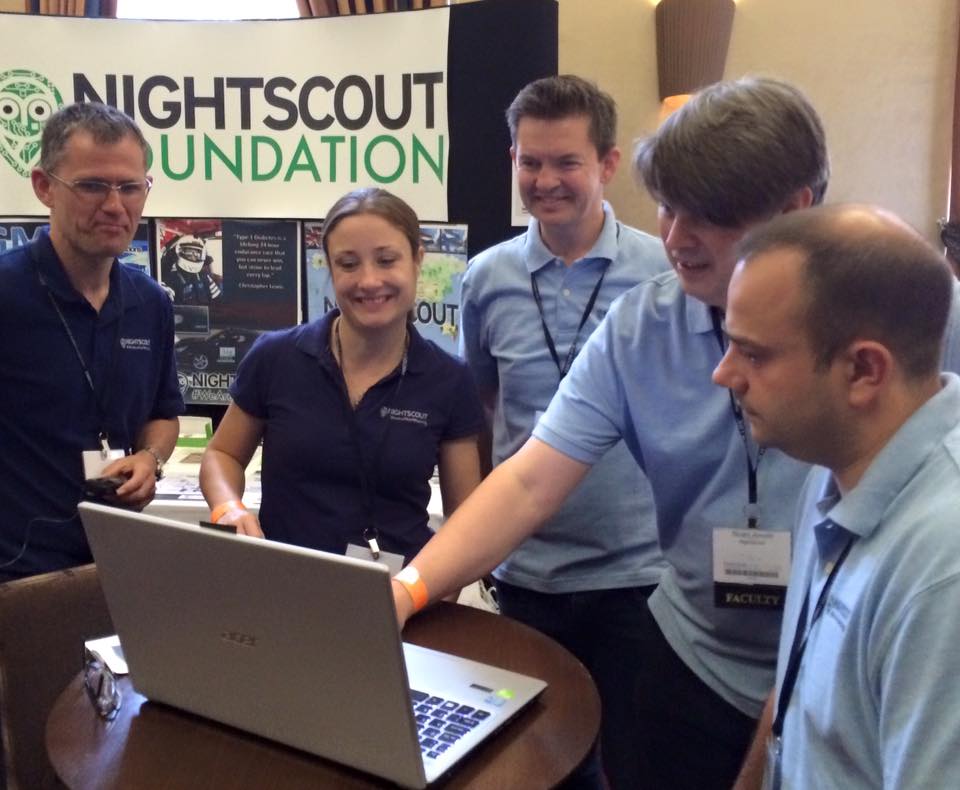 None of us had met before but after arriving at Windsor and meeting everyone I felt like this was a team which had been together many times, we were so relaxed together, sharing jokes, poking fun, and just understanding everything each other was talking about.
Our first task was to decide who was doing which bits and I found myself volunteering for a lot more than I thought I would. Perhaps I wasn't so nervous after all.
Wes posted a photo: we were no longer anonymous.
Morning presentation – What Nightscout means to us
The morning session wasn't advertised in the programme, just on flyers at our stand so we had less than 20 people there, but that was great for my first foray into public speaking. I've always felt that if anything I say or write opens the eyes of just one family then I've done my job because I know that family will open the eyes of another.
Due to enthusiastically overrunning our slide timing the session really turned into a What Nightscout Means To Us presentation.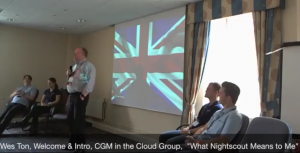 Wes opened the presentation with a heartfelt introduction to Nightscout and what it mean for him, it was very moving, speaking about how his son's T1 diagnosis at 12 months affected the family.
Kate spoke about how Nightscout "makes the diference" and spoke of how the "glanceability" of her glucose readings on a watch reflects what her driving instructor told her "nothing should ever come as a surprise in your rear view mirror", she's aware of what's happening before it escalates into a difficult to deal with hypo or hyper.
Jesus's story to me is amazing. He's a parent but he is the T1 and he developed software for himself to monitor glucose readings. One day he heard John Costik's Nightscout story and within an hour sent him an email to let him know that Jesus could get readings from Medtronic Veo CGM and could amend it to work with Nightscout. I can't begin to tell you how moved I was by Jesus's story of selflessness.
Tim's story was another good one, speaking how great the community is and how Nightscout has pushed the boundaries and helped Dexcom release Share ahead of its original plan. Having Type 1 for 32 years he had a Dexcom receiver but built an xDrip and is pleased to realise the much better calculation engine than that available in UK Dexcom products, with the added bonus of extended life sensors. (USA has the '505' software and Share but this has not been released in the UK.)
Stuart spoke about how Nightscout lets him know "at a glance whether to react or relax", which along with Kate's "glanceability" sum up Nightscout very well for me. With his daughter being 13 she is starting to manage her own diabetes and diabetes allows Stuart and his wife to pull away more and only intervene when required, meaning his daughter finds it less intrusive.
My presentation: BG's are not as important as Snapchat or 5 Seconds of Summer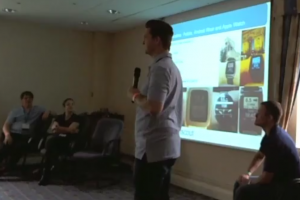 When my turn to speak arose I felt calm, I just wanted to get my story out there, I was somewhat surprised I wasn't a bag of nerves.
I spoke about how to a teenager almost nothing was more than important the weekend lie-ins and that Nightscout means I'm not worried about whether she's too low or too high when her bedroom door is closed till noon.
"BG's are not as important as Snapchat and 5 Seconds of Summer" was my next line. Amy wants to be a teenager and do teenagery stuff like listening to her music and chatting online with friends, probably about the music they're listening too…and boys…and boys who are in bands…like 5SOS. I mentioned that whilst cooking I can glance at my watch and decide whether I need to intrude on Amy to ask for an early BG check so we can pre-bolus, or adjust to get her at the lower end of her range before eating. Like Stuart's daughter this is less intrusive for Amy than before Nightscout.
I explained how I use Nightscout to "nudge" Amy. With my range set from 3.5-14mmol and Amy's set from 4-9mmol (her choice) I know that she would have had an alarm if over 9 but if she reaches 13 for example it's probably because she's not noticed an alarm, so I give her a gentle nudge to do a check or make an adjustment.
My key message though was how Amy's HbA1c's had changed through her time with Type 1: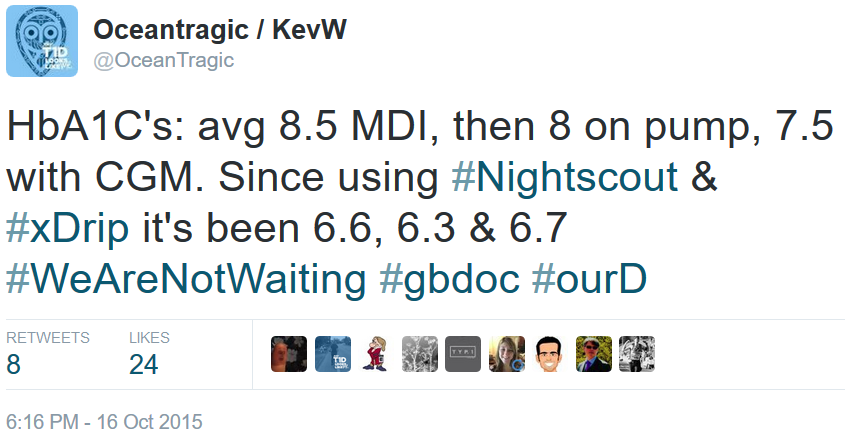 Nightscout and how it works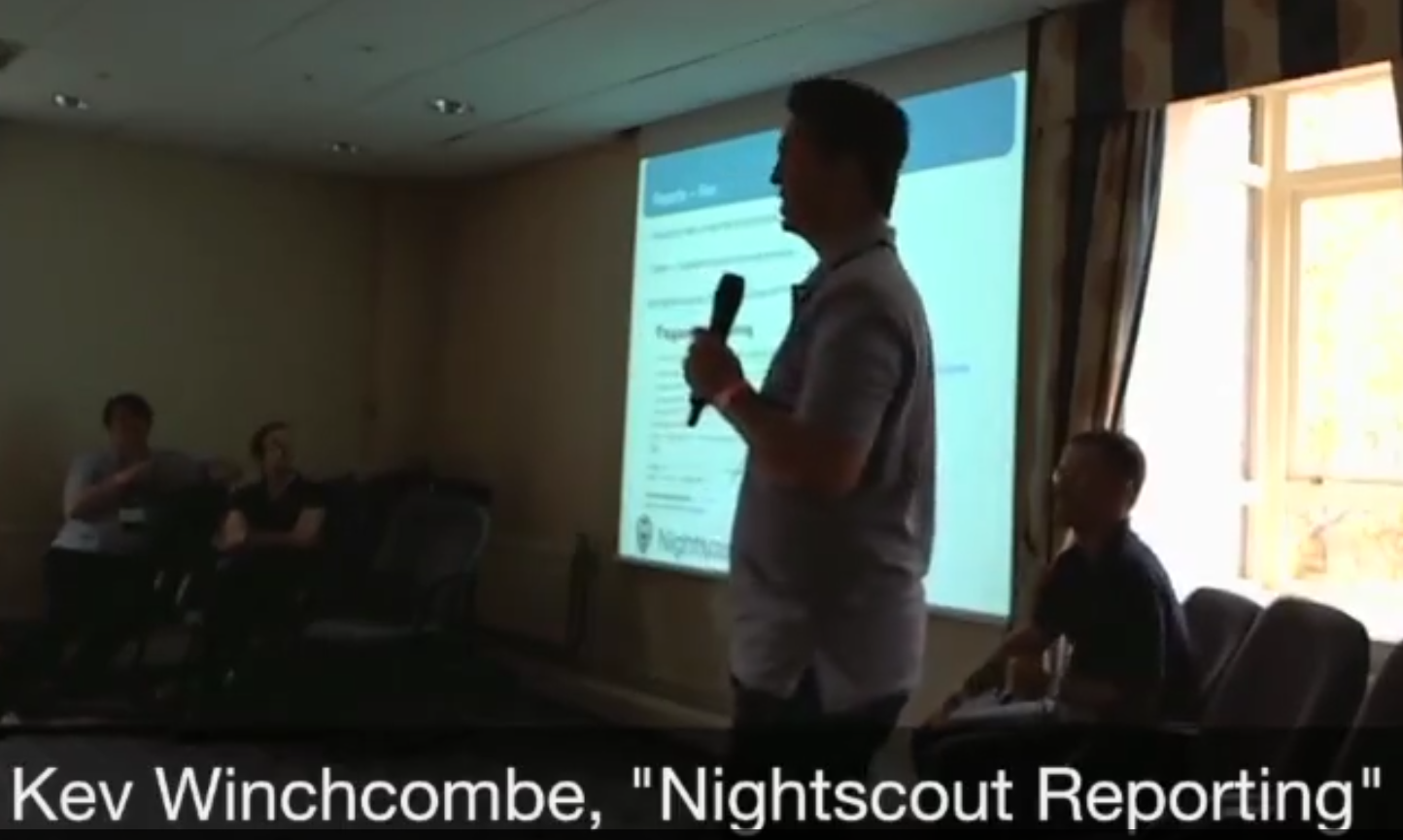 Kate went into the basics of Nightscout, the website, the browsers and phones and what appears on the screens and gave an overview of CarePortal. CarePortal is where kids and school carers/nurses can enter information about carbs, insulin and many other things into Nightscout which can then immediately be seen by the parent/carer, which in turn means that worries about Hypers may be negated if the parent can see insulin has been given, meaning in turn no panicky phone calls to school.
Stuart expanded on this talking about the 'pills' which appear on the screen and show you values such as Insulin On Board, Carbs On Board, and the Bolus Wizard Preview, which based on settings you've entered gives you an idea what sort of action might be required to get the child back in range. Stuart stressed that this is only for an idea of what to do and shouldn't be used without deciding on whether that action is appropriate or not.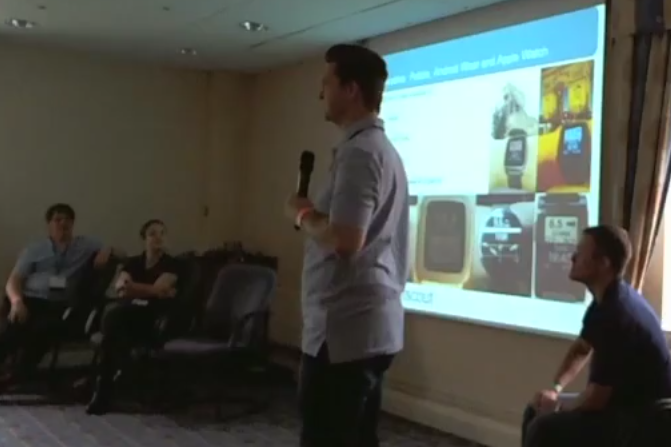 I presented about the reports Nightscout gives, comparing them favourably to Diasend which I rarely use now. One report gives you an estimation of A1c and ours said 6.8% prior to the last clinic when Amy got her 6.7% result.
Just for fun us Pebble watch users decided to do a speed test with Wes and his Apple Watch, to see how quick we could all glance out our kids' glucose level. It took Wes a fair bit or time.
Finally
Finally, it was lunch time, and as the engaged audience left the room I knew the team had done a good job and we eagerly awaited the afternoon session which would include presenting solutions and a workshop where we could solder some bits or help get people going with their Nightscout solutions.