Today marked the first time where any members of our family actually did anything connected with World Diabetes Day. Last year should have been the first but we didn't know about it, only Twitter made sure we knew about this one.
NOTE: World Diabetes Day 2013 blog and photos are here
I set off at 7:30am to drive to the Queen Alexandra Hospital on the top of Portsmouth which marked the start point of the DiabetesPower ride from Portsmouth to Birmingham, a mere 150 or so miles over two days! I arrived dead on 8am, thirty minutes before Angela (@diabetespower1) and her team of cyclists were due to leave, but where were they? I couldn't find them. After walking around the QA I eventually found them.
Angela and I found a few minutes to have a nice chat – we'd never met before – before the hospital's communication team and the local newspaper turned up for a photo session. It was great to meet them all and hear about DiabetesPower, but I didn't envy them, especially knowing the route they were taking had some pretty big hills.
Here's a shot of the team getting their photo taken.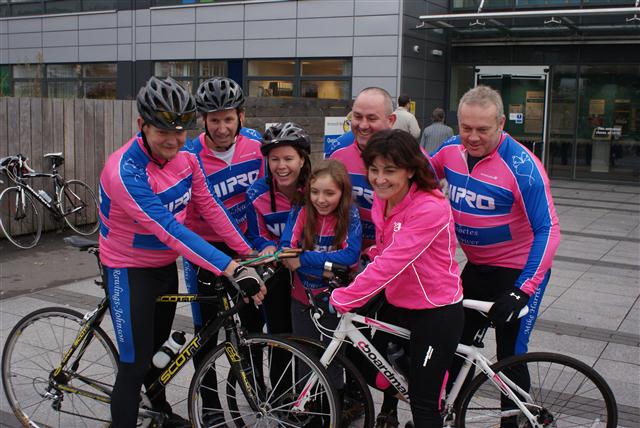 My route to work took me past the team tacking the first few hundred yards, up the steep Portsdown Hill to the north of Portsmouth. I stopped at the top to cheer them on. Here's a picture of Angela nearing the top, with Portsmouth and its Spinnaker Tower in the background.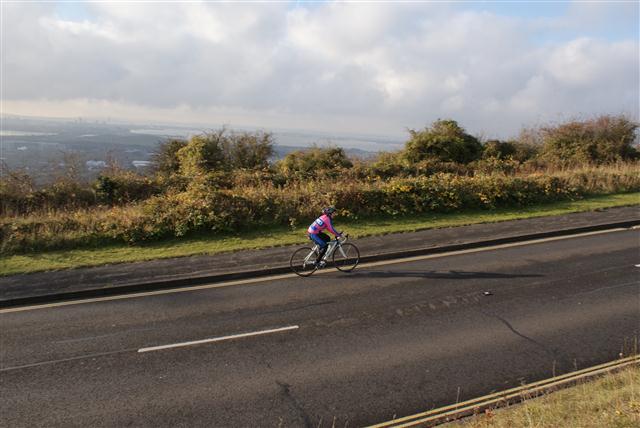 During lunch time at work I followed all the tweets that were going on and was amazed to find out about Ninjabetic's article for The Independant about Diabetes UK's 4T's initiative. What a great idea that is and so simple to remember: tiredness, thirst, thin and toilet. Tomorrow I'll print out their poster and get some put up in the local schools and nurseries.
Back home and catching up on all the lovely messages about the release today of this Circles of Blue web site. Amy's been amazed by all the messages particularly directed at her article about the day she was diagnosed. It had so many retweets on Twitter too, topped off by a retweet by Ninjabetic's doc, the award winning Partha Kar @parthaskar – he's almost a celebrity 🙂
After dinner and we decided to pop out to see the buildings being lit up for WDD2012. First to our nearby Southampton where we found the building that was meant to be lit up, and it was, but it was white. What! That's Rubbish.  So, off to Portsmouth to view the Spinnaker Tower which was glowing blue for all to see.
A twist of irony saw me ending the day supporting Portsmouth rather than Southampton, but only the council, not the football team. No way would that happen.