Recently I've become a Peer Support volunteer for Diabetes UK, answering a national phone line (0843 353 8600) for one evening a week as well as answering emails sent to my TalkToKev@diabetes.org.uk email address.
I joined at a time when a promotion campaign was set to start and I was asked to share my story and experience. So I put some thoughts on an email to Sylvia, Diabetes UK's South East Regional Media Officer, who produced a media release – shown in full at the bottom of this post.
Yesterday the article appeared in my local newspaper, Southampton's Daily Echo and has already generated a fair bit of interest judging on the number of hits this blog got yesterday.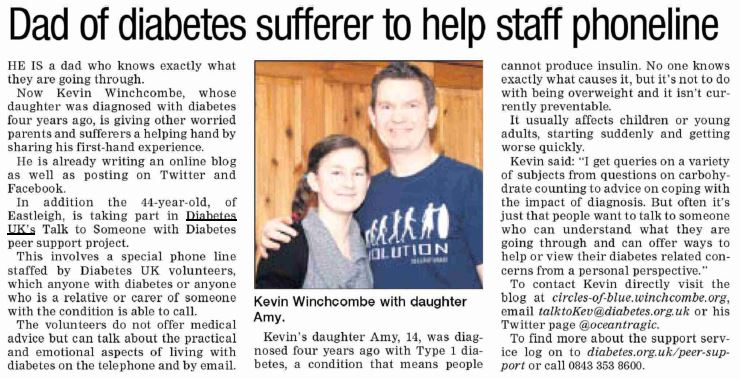 view the full article
It's also been picked up by a couple of other places: Portsmouth Evening News, The Littlehampton Gazette, the West Sussex County Times and The Community Channel
Diabetes UK's Media Release

For immediate release
Hampshire man lends a shoulder to support peers living with diabetes
A 44-year-old Eastleigh man is offering support to people living with diabetes, with the help of charity Diabetes UK.
Kevin Winchcombe does not have diabetes himself but has been sharing his first-hand experience of caring for a child with the condition through online blogs, twitter and Facebook as a way of letting people with diabetes know that there may be others going through similar situations.
He is now being supported by Diabetes UK to use his personal understanding of the condition in their 'Talk to Someone with Diabetes'' peer support project. It is a special phone line, staffed by Diabetes UK volunteers, which anyone with diabetes is welcome to call.
It is also available for relatives and carers of people with diabetes. The volunteers do not offer medical advice but crucially they can talk about the practical and emotional aspects of living with diabetes because they also live with or care for someone with the condition.
Kevin's daughter Amy, 14, was diagnosed four years ago with Type 1 diabetes, a condition that means people cannot produce insulin. No one knows exactly what causes it, but it's not to do with being overweight and it isn't currently preventable.
It usually affects children or young adults, starting suddenly and getting worse quickly.
The charity has trained Kevin to use his diabetes knowledge to reach out to people who are looking for support networks. So now in conjunction with his own experience, he feels confident to give practical and emotional support to people living with the condition on the telephone and by email.
Kevin said: "I get queries on a variety of subjects from questions on carbohydrate counting to advice on coping with the impact of diagnosis. But often it's just that people want to talk to someone who can understand what they are going through and can offer ways to help or view their diabetes related concerns from a personal perspective."
"My involvement in the Peer Support scheme is extremely rewarding as the volunteering role gives me the opportunity to help people who actually have diabetes and advise others, like me, who have someone close to them with the condition. I hope my contribution can, in some way, help people manage their diabetes more effectively by providing, advice and support for a condition for which there is currently no known cure."
Jill Steaton, Diabetes UK South East regional manager said: "Kevin is a fantastic advocate for a parent looking after a child who has diabetes. As it's a serious lifelong condition, it can be difficult, but through this project Diabetes UK offers the chance to talk to someone who has been there, who knows first-hand what it's like to live with diabetes. Feeling like no-one understands what you're going through can be tough but sharing experiences with someone who knows is often half the battle to managing the condition."
To contact Kevin directly visit the blog at http://circles-of-blue.winchcombe.org; email talktoKev@diabetes.org.uk; or on Twitter @oceantragic.
To view profiles of all of the volunteers and start a conversation by email at any time, go to www.diabetes.org.uk/peer-support. Or if you prefer to speak to someone directly you can call 0843 353 8600. The service is open Sunday to Friday, 6pm to 9pm.