Tuesday's topic: This year, Diabetes Blog Week and TuDiabetes are teaming up to bring out the poet in you! Write a poem, rhyme, ballad, haiku, or any other form of poetry about diabetes.
---
So here's my entry, the first poem I guess I've written since my school days. Hope it's okay.
A childhood all gone: a true story of Amy's diagnosis and where we are now

Well she seemed very nervous perched there on the desk,
Softly saying some words which caused us distress.
A quivering voice made me see from the start,
These familiar words still broke the nurse's heart.
My salt covered cheeks saw confusion elsewhere,
On the face of a girl who awoke free of care.
Nurses make you better knew the 10 year old girl,
But not what the next few minutes would unfurl.
"Will I die" asked the girl, of the nurse, sat in front,
Whilst the family's throats all swallowed a lump.
"You'll need to take insulin to make you feel right."
"Just the once? No? What? For the rest of my life?!"
With the first meal arriving when six struck the clock,
"Who would you like to give the first shot?".
The needle-phobic young girl said without any strife,
"I might as well start if I've got this for life".
With injection two done she tried to sleep tight,
On pillows with tear stains she awoke feeling bright.
The nurses so calming got us through the day,
But with arms full of D kit we wanted away.
We couldn't go yet though as we hadn't been told,
How to give Glucagon if she's ever out cold.
The training was nearby but well out of sight,
But that curtain wasn't as soundproof as the girl would have liked!
The next few weeks all seemed quite fraught,
Trying to remember everything we'd been taught,
Of injections and testing at least four times a day,
How we wish we could take our girl's pain away.
It all seemed too much, just how did we cope?
With support from our nurses and minds full of hope.
But we felt quite alone, no-one quite knew,
Just how much we had to prepare, carry and do.
We were eighteen months in before I discovered my rock,
In the PWD* who are known as the #DOC*.
They teach me so much and in so many ways,
And continually help to brighten my days.
Three years now have past and how times have changed,
We're stronger and confidence runs through our veins.
The little young girl with her childhood all gone*,
Would turn out to be so incredibly strong.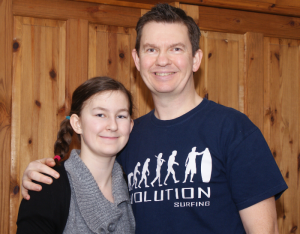 * PWD is people with diabetes
* DOC is the Diabetes Online Community, found 24 hours a day especially on Twitter
* So her childhood's not all gone as such but she's been launched into a world of responsibility and worry way ahead of her years.