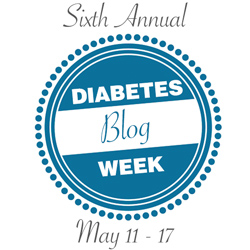 This week it's worldwide Diabetes Blog Week, organised by Karen Graffeo and today's topic is 'I can':
In the UK, there was a diabetes blog theme of "I can…" that participants found wonderfully empowering. So lets kick things off this year by looking at the positive side of our lives with diabetes. What have you or your loved one accomplished, despite having diabetes, that you weren't sure you could? Or what have you done that you've been particularly proud of? Or what good thing has diabetes brought into your life?
I can
With a common phrase at the moment being 'you had one job' I can make sure that I do that job well: to ensure that Amy has all the support, guidance and knowledge that she needs to look after herself as she matures in the wonderful adult she will no doubt become. Of course it's every parent's job to do their best to ensure their child flourishes in every area and diabetes is yet one more area to add to that equation.
I could
I could impress on my daughter how unlucky she is to have been diagnosed with Type 1 Diabetes.
I could impress on my daughter how she shouldn't exercise due to the possibility of hypos.
I could impress on my daughter how she couldn't travel the world due to the problems of changing time zones, eating foods she doesn't know, temperature changes etc..
I could impress on my daughter how Diabetes could stop her doing lots of things.
But I won't.
I can't.
I can
I can make sure that diabetes never features as a key reason to not do something. As we've already found living with Type 1 has it's challenges but if you accept there will be fluctuations and you're prepared to put in the effort then nearly anything can be achieved. Okay she would find it pretty challenging to scale Everest or reach the South Pole but I think it was pretty unlikely she was going to attempt those anyway.
I can make sure that I can learn everything I can about managing Type 1 Diabetes so I can help her learn. That's why I spend endless hours reading articles so that I can précis it for Amy so she can life her whirlwind teenage life.
I can make sure I give Amy opportunities to do things she'd could easily back away from using Diabetes as a reason, challenging her and us to deal with whatever needs dealing with. Such as the four week backpacking trip around India we could have easily cancelled. Having successfully done this trip we often use it as a 'well we did India without much trouble so ______ shouldn't be a problem'.
I can make sure she grows up with a positive attitude, especially towards her condition, and encourage her to grab life.
I can also sit back.
And watch.
This is happening.