We've been using Nightscout on and off for a year now, since I built our xDrip in January 2015. It's been a brilliant tool and has helped reduce glucose levels, whilst evening them out too and giving us a safety net during the night. It's availability on any browser, smartphone or smartwatch is just brilliant.
A friend whose daughter has used the Abbott Freestyle Libre for a year had followed our progress with Nightscout and told me how she would love it but just couldn't see her daughter switching to DexcomG4.
It got me thinking.
I wondered if Nightscout could be beneficial to a Libre user and it suddenly dawned on me that it would be very useful for kids/parents in a preschool/school or sleepover situation: wouldn't it be great if the school carer or sleepover parent could just scan the child's sensor and the parent would remotely get to see the current glucose situation. If things are on track the parent can relax, if not they could perhaps call or text the person caring for their child.
Yes, using Nightscout with Libre had many possibilities.
It got me searching to see if there were any phone apps which could scan the Libre sensor and get the data onto a NFC compatible phone, that's when I found Glimp. Glimp can already save data to Dropbox which means its developer, Carlo, is well versed in using cloud storage, Nightscout could be added if he had the time.
To use Glimp you need an Android phone with NFC compability, many Android phones have this feature…although typically not mine (MotoG 2nd edition).
Is anyone using Glimp?
I joined a Libre group on Facebook to ask if anyone already used Glimp. There were quite a few responses, many seemed keen on the potential.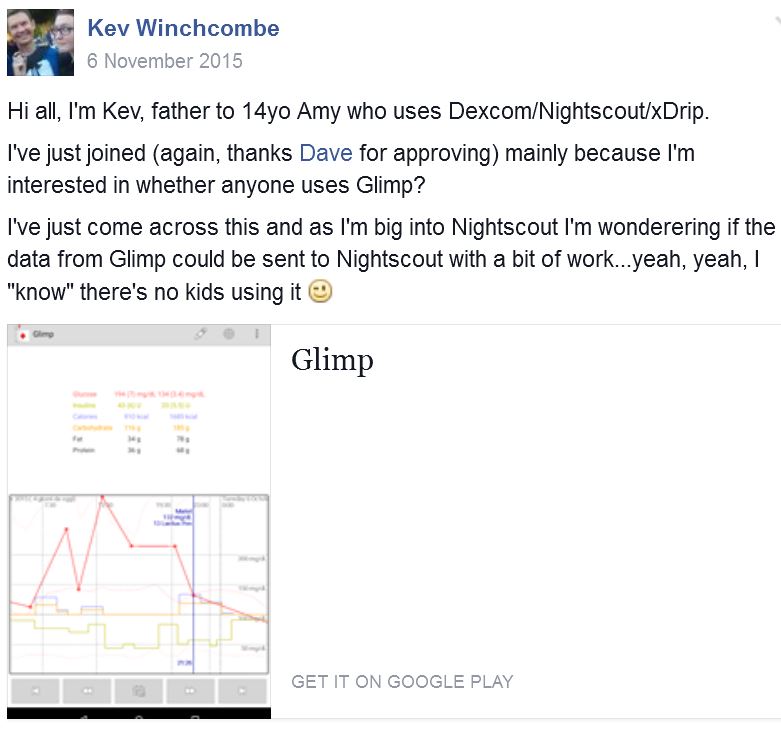 Hey Carlo, would you mind…
A few days later I sent an email to Carlo who responded with much interest and started looking into Nightscout.
Email exchanges meant I could point Carlo towards the Nightscout API documentation and get John Costik and John Stevens on standby if Carlo needed assistance.
He didn't.
A work in progress
Carlo was great at keeping me updated with his progress, which I passed on to the Facebook group.
It really didn't take Carlo long to get data into Nightscout and by 18th December he'd emailed me some images to show others.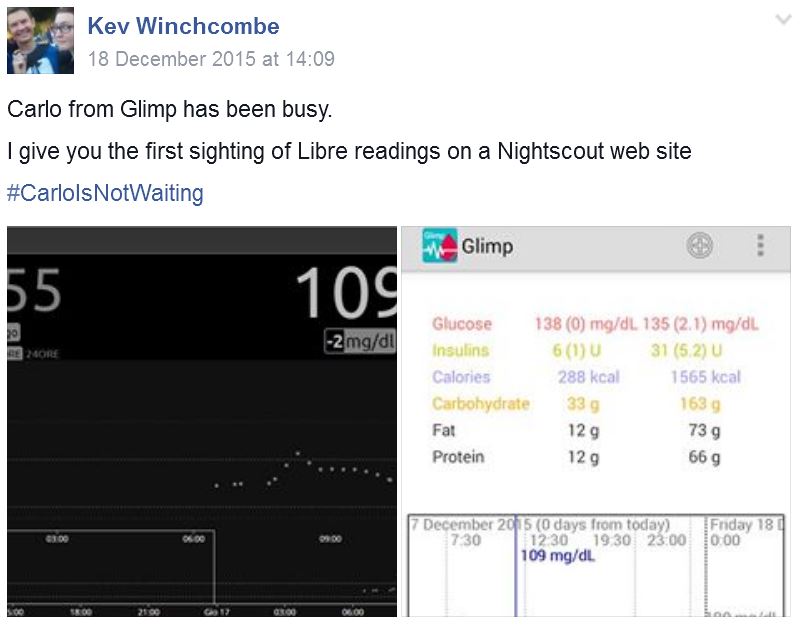 The first results
On the 27th December – merely a couple of weeks after Carlo had all the Nightscout information he need – Carlo had it all working. It was time for a big announcemnt.
I was amazed at the number of people who wanted to test it and get Nightscout up and running.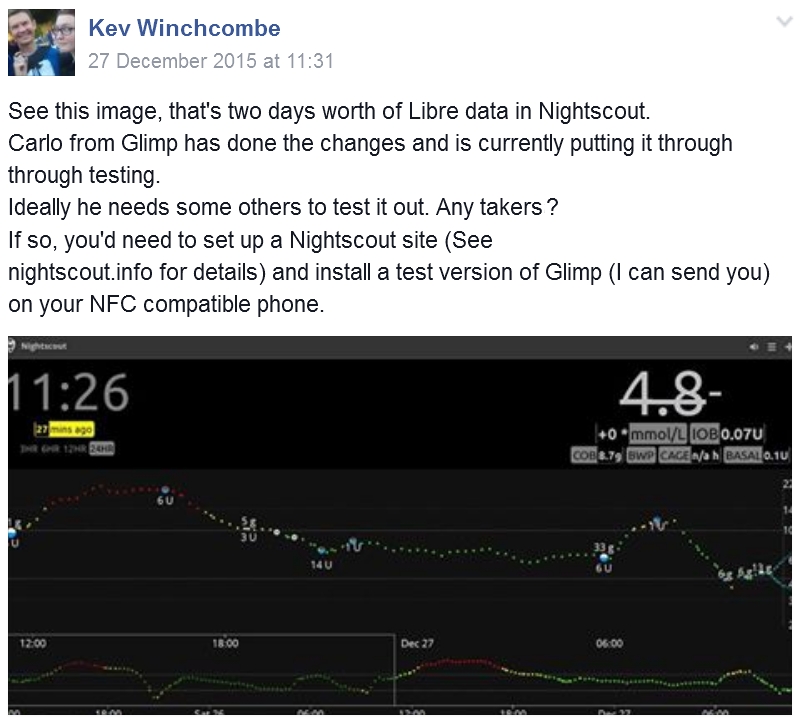 An untapped demand
In the next couple of weeks more and more people were setting it up, testing it and really loving it. There were a couple of reports of sensors dying but very few in comparison to the number of people using Glimp.
Parents really see a benefit in connecting Libre to Nightscout and that's what this was all about.
Fancy using Glimp to get your Libre data into Nightscout?
You can find Glimp in the Google Play Store.
You can find the documentation on setting up a Nightscout web site and database at http://nightscout.info.
Once Nightscout is set up you simply going into Glimp's settings and enter your Nightscout web site address and your special API key you set up during the Nightscout install.
And the best part? Everything is free.
Thank you Carlo
I can't thank Carlo enough for linking Glimp to Nightscout, he really knows how to Pay It Forward.
Setting up Glimp and Nightscout
If you would like to set up Glimp and Nightscout please take a look at the guide Amy Cowen has done: Nightscout for FreeStyle Libre