I met Lucy and her family about a year ago, at an event organised by the local (South Hampshire area) families support group, Seahawks. We've spoken quite a bit, through highs, through lows and one day I offered her the chance to tell her story.
Here's part one of a three part story.
Let me set a scene.
The date was 22nd April 2015, sat outside in the garden with some friends and my mum having a nice sunny chat over a few cups of coffee. Sienna was our youngest of four children at 2 years old she was tottering about tripping over her own two feet like a drunk 2 year old whilst playing with her toys. She had been under the weather for a couple of weeks and had noticed a change in her but couldn't yet put our fingers on what was laying beneath. In my gut I knew she wasn't right but was waiting for something more poinient to come through so I could say "yep, that's it, that's what it is" But nothing as frustrating as it was I was a mum of four, so yes experienced in the art of motherhood. The tripping over stood out as well as going off her food only wanting biscuits and drink, coupled with a bad bout of thrush. She had suffered with this on and off since birth but this one was taking an age to go. The next day day she went with her child-minder whilst her father and I went to work. I had mentioned to her that our little one wasn't right but couldn't put my finger on anything but if she needed me to get her I would. We didn't hear anything all day until I picked her up on the school run. She went on to say that Sienna only had a couple biscuits and drank like a horse but most definitely wasn't right and agreed with me that she could also not put a finger on it. She also had experience in the art of motherhood as well as achieving the minding of children certificate. With that I made the decision to ring the doctors and get her booked in for an emergency appointment that eve, explaining that she wasn't right at all but really needed to be seen.
Trusting my instincts
My instincts were right.
As I exited the school gates she started going blue, I had already phoned a friend to help look after our other three whilst I took her to the doctors appointment. After I had told our doctor what was going on he went to ask for advice from the nurse but had first asked me if he could get her to perform a blood glucose test. Desperate for anything to help our little girl I replied with a yes of course.
Test 1 = HI on the testing meter but I had no clue what that meant so the nurse asked if she could do it again just to make sure but this time explained what it was for and why she was testing again. It slowly sank in. She was testing Sienna for Type 1 diabetes.
Test 2 = HI but this time the nurse turned around and talked to the doctor first before turning to me and said that our little Sienna was type 1 diabetic and the testing meter only goes to 32 before it cannot read sugars higher than that. The nurse exclaimed that Sienna needed to go to hospital to find out how ill she was and that she would be on injections but also that within 12 hours she would be feeling slightly better. The doctor in the mean time had called an ambulance and had come back to tell me that I should let her dad know what was going on. The next half hour was a bit of a blur with me texting close family to tell them in short hand text that Sienna was being rushed to A&E because of T1D. I felt like I was in a whirlwind, as the ride to hospital neared everything all jumbled into one.
Hospital arrival
Upon arriving at the hospital she had two drips in each of her hands and numerous blood vials were being taken. I had to literally pin our struggling, kicking and fighting 2 year to me with all my might. Dad arrived along with a close friend of the family,I was relieved but very shaken. Pinning her down really got to me. The consultant came in once Sienna was more settled and fully explained what T1 was and how it would affect her, how the hospital would help and who was going to get involved in helping her recover. For me, the next three days were a blur, all I knew and understood was that our other children were with our friend and that my little girl was hurting inside and I couldn't make it better for her. Any mum would feel the same, no-one likes seeing their children in pain and just sitting there doing nothing, I felt hopeless.
Part of being Hyperglycaemic is that she loses all sense of normality, she becomes angry which is understandable, they say it's like having a hangover with the headaches, feeling and being sick, wobbly like she was almost stagger like. And for a 2 year old to feel like that hit both her dad and I like a ton of bricks. She didn't want me, no cuddles, no hugs, no soothing, NOTHING. The more I tried the angrier she was. This was totally a shock to us as she was always a sweet caring little dink (her nickname being the smallest and the baby of our family). Paediatricians, Diabetic nurses and dietitians, psychologists and consultants all came to give us individual talks on how they would each be helping Sienna and us come to terms with this life-changing condition.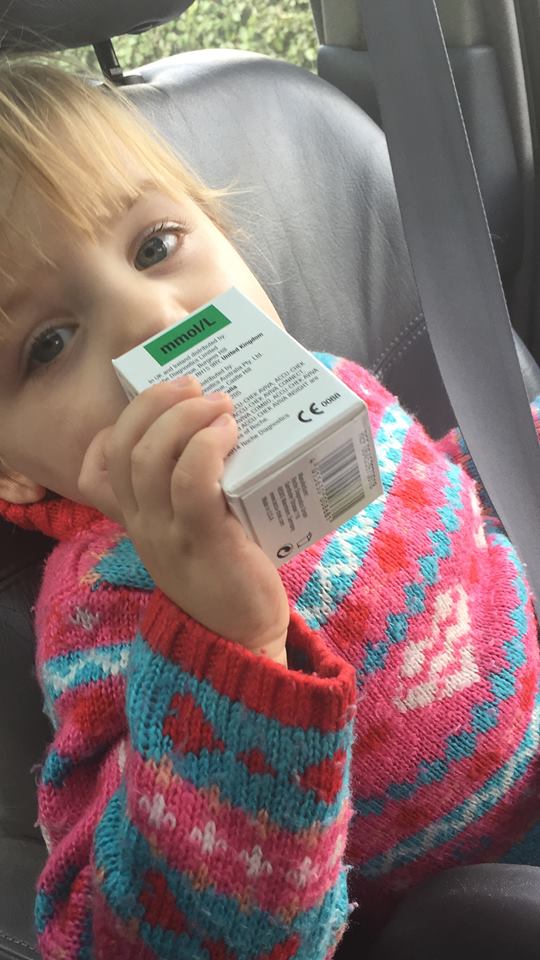 Even blood glucose strips need some love
Filling up with information
The injection training started on the third day when Sienna was well enough and coherent enough to tolerate being injected.
Both her father and I had to perform finger pricks every 2 hours, give 5 injections to Sienna and be confident in carb counting before being allowed to take her home. The team were fantastic in working with us for us to be able to take care of her at home. Our minds were stacked full of information, Yes with diabetes there is a lot to take in and a lot that can affect her levels.
Friends asked me later on how do I hold all that info? I said that I feel like we have completed a five year degree course in type 1 diabetes in 5 days and it just comes, there's a little life at the end of it so you cant forget.
Feeling overwhelmed
Being told to give injections that could potentially be life threatening either way if you get it wrong was an over whelming feeling too. Too much insulin and you overdose and her levels will drop too low taking her into Hypoglycaemia. As she developed T1 at a young age she has no Hypo awareness, this is also a worry. The feeling of this is likened to an emotional female at the worst time of the month with the crying and the hunger. Her little brain is being starved of the glucose it so desperately needs making the brain function inept. Too little insulin and her sugars swing the other way, they would rise way up to the sky (sky/ HI). I took two weeks off work where I was a full-time lifeguard pool manager working shifts and my partner was working as a technician I ended up working for another eight weeks before the 2 hourly night & day testing took it's toll. I constantly saw numbers on everything and soon became a genius in knowing the carbs in a slice of bread or a fudge bar to a small banana. You see, diabetes doesn't sleep or take a break which meant we couldn't either. We couldn't just say we don't want you today please come again tomorrow, it's here to stay. However much I wanted to say just DO one.
Nighttime Ninja
I soon became the master of the night, The illusive one, Yes I became "THE NIGHTTIME NINJA". Testing blood sugar levels in near complete darkness, I have the eyes of a hawk and the stealthiness of; well some kinds of demented ballerina Have you ever tried dodging Lego in the dark, delicately tripping over dolls and teddies with only the light of the blood meter to light the way. Then to use the meter light to light up the finger pricker to prick your precious ones finger for the umpteenth time, to then use it to light up the smallest drop of blood ever like some kind of spy. Mission impossible was only complete if her sugars were in range. If not we gave our little one a Jelly baby, yes a sweet in the middle of the night, kind of goes against any normal thinking but this one little jelly baby can and has saved her life on many occasions, all hail the jelly baby. Our little one safe and definitely soundo when I left to go back to bed and rest until the next alarm goes off in 2 hours. This was a mean feat. I can be sleep deprived longer than I thought I could and still get up and do a normal day. I think they call it a mombie, but after six months I was very, um exceedingly, no wait extremely tired, exhausted, worried and scared.
I cried more tears than I have drunk hot water. I tried to buck up my ideas and tried to be brave but no matter how hard or how brave I felt I was so scared that our little one won't wake up in the morning. Mornings for me are special when I see her stir or take a breath, (that's also normal to feel like that, but it does get better, a lot better. Over time I got used to walking the floorboards at night. I was now a master in the art of Night Crawling, I had passed the Lego and doll tests, I knew which floorboards to miss, I new how to give a hypo treatment and correction injection without fully waking our little tot. Not once did I ever test the wrong child due to tiredness and survived to do it all again the next day or that day depending on which side of the clock you're on I suppose.
I am not alone
I very quickly joined a Diabetes discussion forum on Facebook.
I was not alone.
The parents all gave their welcome speeches in their own way and I quickly realised how many little tots there were all over England, Scotland, Wales. I quickly learned that advice can be gained at any minute of the day, every hour of the day and night. I read other parents T1 Journeys with their little ones just like your reading mine now.
"I couldn't inject" one friend said to me, another said "it could be worse", "so she can't have sweets now" every one of those questions really grated but one thing was for sure I had my FB T1 group to vent to. A HUGE group of parents of children with Type 1 diabetes, they ALL got it, they knew what I was thinking, what we were going through as a family, they knew the right words to say anytime of day or night. We like to share every little bit of happiness and excitement and achievements as well as go through the journey of Lows, the hospitalisations for some little ones. But the journey's we've had we take together. I've never met any of them/you but because we all talk so much it's like I have known them for an age.
For them/you this is my own personal thank you.
Thank you for being there through the good times and the bad.
Thank you for giving that extra little bit of advice at stupid o'clock in the morning as well as sharing our HIs and LOs 😉
At least night time testing provided some comedy moments