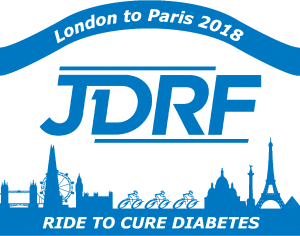 The logo I've designed for the event water bottles
A few years ago I helped get a large team of Diabetes Dads – Dads with kids who have Type 1 – together to ride the London Nightrider. Around 30 of us rode, raising £20k for JDRF. It was a great night.
This year twelve of us are riding from London to Paris, starting on the 24th May from JDRF's offices in London, through to the Trocadero in Paris which we'll (hopefully!) reach 4 days later. Many hardcore cyclists would do this in less days but this will be a social ride, discussing diabetes, our kids and tech. Plus there *may* be stops at the odd auberge.
The ride will be unsupported much like the ones I've done in 2015 and 2016. If you're thinking of doing something like this yourself check out my blog at london-to-paris.winchcombe.org.
It's 200 miles, 65 miles for days 1 and 2, 35-40 miles for days 3 and 4.
How fit do you need to be
This isn't something only the uber fit can do, you just need to train. Like most of the team I've started from nothing, no regular training for months before starting training for this. Starting at 10 mile rides and now happily at 40 mile rides, a few more training weeks should see me able to complete the event.
Getting fit is hard
Many of my friends think that I cycle all the time so this ride will be easy, but prior to starting training I've not cycled since last year's Nightrider in June 2017. I'd forgotten how quickly you lose fitness and just how hard it is to get it back again.
Fundraising is hard
I've not done any fundraising for a couple of years but times are tight for many and I'm finding fundraising really hard at the moment. I think I'm suffering from this challenge being no harder than the last one and that people think this will be easy for me, it won't, I'm no weekend-warrior-cyclist, those hills and that mileage really take its toll on my still-in-their-forties-just legs.
Training not walking
It seems like I've been waiting for the warm days – like today – to appear and I never realised how much of a fair weather cyclist I must be. It's time to stop talking about the ride and get out and do some longer, decent training rides over the South Downs.
If you can spare a few quid you can sponsor us using this link: https://www.justgiving.com/fundraising/diabetes-dads
Or donate by texting DDTP50 £1 to 70070. You can change the '£1' for any amount, e.g. '£1000' 🙂