The Make A Difference conferences are run by Diabetes UK for people who volunteer for them and there's one for each region. On Saturday I attended my local area's one in Guildford, it was my first one, it won't be my last.
I was pleased to see Angie from Southampton D:UK Branch and Helen & Stewart from Seahawks there, along with Raymond from Fareham, all people I'd met over the course of the last year. I was there because of my involvement with the national Peer Support service #TalkToSomeone that I've been doing since October 2013. After a few chats with D:UK staff the conference started headed up by Jill Steaton, South East REgional Manager.
Morning workshop: Make The Grade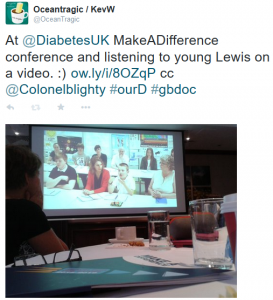 The audience split up to attend workshops we had all signed up for beforehand, with Stewart, Helen and myself attending the 'Make The Grade'. As part of it the 'Hands Up for Good Care in School' video was shown and brought a smile to my face as I watch Lewis, Andy and Zoe on the screen.
The science bit
There were a couple of scientists there, whose work is funded by Diabetes UK. First up was Lisa HeatherX who spoke about her work looking into how the heart works differently for people with Type 2 Diabetes, although it seems it's just as valid for Type 1's as well. I'm always amazed at how well these scientists convey their work to people like me who understand precious little about it; she did it well. Of interest was how muscles in general can be powered by fat yet within seconds of a heart attack in a non-D person the heart switches to use carbs as a fuel source, something it doesn't do in people with diabetes and something that she'll be investigating further.
Next up was Chloe Rackham about her research into how MSCs (Mesenchymal Stromal Cells) can help make islet transplants more effective and efficient, a topic I struggled to keep up with. Out of interest she lives with Type 1 Diabetes herself. Islet transplants is a great idea and I'm sure once it's combined with stem cell growth it will really take off.
An unexpected tweetup
In the Q&A after the first talk a lady from the audience asked a question about ketogenic diets in relation to the news that the heart favours being fuelled by fat, not carbs. Given that I've been eating predominantly a Low Carb High Fat diet for at least 6 months now my ears pricked up and I went over to say 'Hi' and have a chat. A few minutes into the chat Julie (@julie_unruly) realised we knew each other online (Twitter, Facebook) and had 'spoken' many times. It's so nice to put a name to a face and the chat was a highlight of an already good day.
Afternoon workshop: Safeguarding
I decided that the Safeguarding workshop would suit my role for Diabetes UK, teaching me things to listening out for during the phone calls to help identify people who needed help. With twenty or so in the room we divided into teams and played a game I'll call 'is it okay if…' – which made me smile as a fan of The Last Leg. It was good to see that most of us agreed on whether the topic highlighted a deeper issue or not and I was pleased to be educated by others on the one I thought was okay, but 50% of people did not.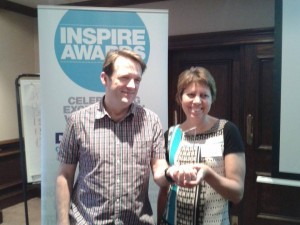 And finally, The Awards
The Inspire Awards are Diabetes UK's way of recognising some of the amazing volunteers it has and the amazing things they do for the diabetes community. Many people seem to spend all their days doing one thing or another for Diabetes UK or the diabetes community. Take one of the nominees, Angie Whitmarsh: she helps run the D:UK Southampton support branch, she attends many hospital and CCG meetings, she helps out with collections, she goes with D:UK to Parliament for things like the APPG (which took place a couple of days ago) and rushed back from that to attend the launch of a parents and families D:UK support group within Southampton. Yet, with all this and more Angie sadly did not win an Inspire Award; the bar for these awards is clearly very high.
I was really pleased when Seahawks, the South Hampshire families group, won an Inspire Award, as the support it gives to local families is fantastic, truly inspiring. The dedication given by Helen and Stewart (who collected the award) and other committee members knows no bounds and I'm glad that Diabetes UK recognised that.