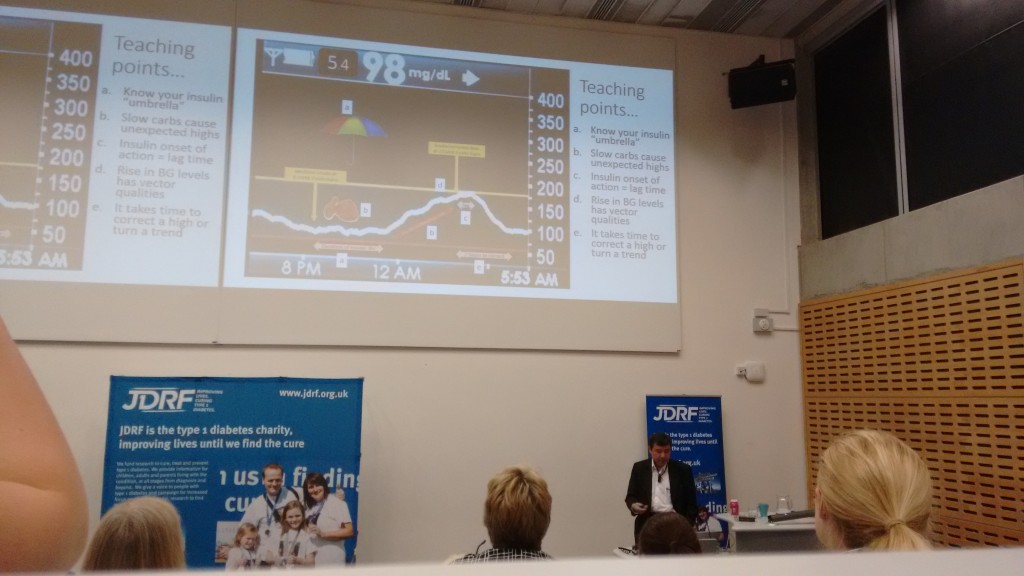 It's taken me a lot longer to get started on this article than I would have liked but actually it's done me a favour as Julia has already written a brilliant blog all about it, so I'd suggest you have a good read her article Sugar Surfing with Dr Stephen Ponder MD
So I won't repeat what Julia's written but just talk around some of the rest of the event…
The most eagerly awaited Discovery Day?
Over the last few weeks the buzz around last Saturday's JDRF Discovery Day has been getting stronger and stronger, everyone excited to meet Dr Stephen Ponder in person and listen to his introduction to Sugar Surfing.
On Thursday after I'd interviewed Dr Ponder for Diabetes UK he asked me what to expect at the event and I told him:
"There's a long waiting list for this event, people are travelling hundreds of miles, some are coming from France just for the day, Twitter and Facebook are buzzing. I expect that you won't hear a pin drop during your presentation."
He told me he was excited to be able to present to all of us.
Blasé about travel time
In true Winchcombe style we were running late which annoyed me as I had so many people I wanted to meet and chat with. I blame myself, this was my third time in London this week and it's "just up the road" (80 miles).
This was the only downside to the day, I wish we'd left earlier so I could spend time chatting with people like Helen & Andy and especially Kevin and Julie as they'd both travelled from France – not together I hasten to add, just to dispel any rumours 😉
A Discovery Day like no other
On arrival we had to sign in, nothing unusual there, except we were in a long queue and there were hundreds of people. Immediately I spotted a few familiar faces whilst I looked around for those I'd been dying to meet; Kevin, Julie, Helen and the legendary Dave Berry. (Dave's a legend amongst us Diabetes Dads on the CWD UK Dads Facebook group)
I'm sorry to all the people who came up or called out 'Kev?' if I didn't recognise you immediately but my mind was a whizz playing a nanosecond game of 'Guess Who?'.
In all honesty I really needed this Discovery Day to have about fifteen 30 minute coffee breaks in it, just to have time to talk to people.
It was a delight to hear the joyful screams of people who met for the first time, after keeping each other company through the dark times and middle-of-the-night glucose checks.
This is one hell of a community.
Before the start
I milled around chatting to some online friends I'd never met before, before I spotted Dr Ponder who was busy book signing. 'Kev' he said 'how great to see you again' which I guess means my interview with him a couple of days before didn't go badly. Before he had chance to introduce me to his co-author Kevin McMahon they were all called in to the hall as everything was just about to start.
Luckily I found time to have a good chat with Kevin during the main interval, he's a truly outstanding character with an all encompassing knowledge which stretches far further than mine and I'm a little envious of his endorsement from Scott Hanselman on LinkedIn. I wished we'd had more time to chat.
Feeling sorry for the first speakers
JDRF Discovery Days always have a couple of people speaking before the person who does the science bit and normally this works well but this time I felt sorry for them as in the nicest possible way the audience's silent 'Get off' was deafening.
Elle Dormer was introduced and she spoke about how she had found Dr Ponder online, instantly connected with what he was saying, then attempted to get JDRF and Diabetes:UK involved. I've never met Elle before but I imediately took a shine to what she was saying and how she felt, that was until she had a dig at D:UK, I ain't got time for that, it's a pet hate of mine and others, because I know that they are the only charity truly able to provide personal support & assistance with school / legal issues for people with Type 1. I know that D:UK, due to personnel issues, had dropped the ball on this one and feel quite bad about it, perhaps Elle didn't know that though.
Elle, if you're (still) reading this can I personally thank you for all you've done to organise the events for Dr Ponder. You've done the community proud. Thank you.
The Sugar Surfing presentations
As Julia's documented this so well please read her blog for more information: Sugar Surfing with Dr Stephen Ponder MD.
The ultimate way forward?
After my interview with Dr Ponder – or Steve as I like to call him now – on Thursday I was already totally sold on this being a good way forward if Amy chooses to want to do it. That's why I took her there, so that she could find out information about other ways of dealing with her diabetes. For the record she didn't really want to go, she had a million other things she'd rather do, as is the way with teenagers, but she went and learned quite a lot. On top of this it reinforced that the things she was doing already were good.
As a family we've looked into lower carb eating to minimise glucose spikes and it's easy to see that it doesn't suit Amy as a full time way of eating, therefore I see Sugar Surfing at the next best thing. In fact it's clear to me that a relaxed combination of the two is a very good (but not the only) way forward.
The post-presentation buzz
So many people I spoke to at the event or online afterwards have said how much sense it all made, how there were doing some or all of the stuff already, how they can see that with only some minor changes their kid's or own hBa1c's could improve…although obviously whilst that's a good measure it's not the be all and end all.
I get the impression from some that they learned nothing, that they did all of this already and that's great as that means they've been Sugar Surfing for some time, that they've realised that these little and constant adjustments work well.
For me Sugar Surfing tells us that it's okay to do this, that we should experiment, that we should approach diabetes management with an agile mind, that we should find what works for us, that we can always learn and improve.
More importantly in confirms that concrete thinking is not the way forward.
Thank you
I'd like to personally thank Team Ponder (Dr Ponder, Kevin McMahon, Patsy, Mackenzie and others) for doing everything they've done to get Sugar Surfing in print and for the presentations given on Saturday.
And finally
If you're interested in learning more about Sugar Surfing please visit SugarSurfing.com and join the Sugar Surfing UK Facebook group which James set up on Saturday.
A slidedeck similar to Saturday's slides can be found here: Sugar Surfing Master Slide Deck August 27