This article is about my involvement with Gav's challenge, where I cycled next to him during the last four days of his challenge, whilst he ran 30 miles or more each day for JDRF and DiabetesUK.
If you're expecting to find out about how Gav got on with his diabetes or running you're going to be disappointed, you'll have to wait and buy the book or attend one of his talks. Sorry but his tale is his to tell, not mine.
The night before…
Dad rang me on the phone to confirm the time he was picking me up in the morning.
"Ok, Kev, I'll see you at 5am"
"What, 5am! No, later, can we aim to leave here at 6am?"
We settled on him arriving at 5:30am, to leave at 6am on our 3 hour drive to Torquay in Devon, to meet Gav and cycle 30 odd miles next to him. It was going to be a long day.
5:30am obviously stuck in my Dad's head, as that's when he left his house, to drive to mine, 45 minutes away.
We were already late.
The route and elevation
Today's route on flat land was due to be 33.6 miles, or 54.2km in new money.
You can click on the map to show it in Google maps:



Plymouth ho!
At Plainmoor, the home of Torquay Football Club, we met Gavin, his sister and his Aunt, took pictures and readied to set off.
I presumed that the hilly route would be quite normal to Gavin, who'd already run through Scotland, the Cotswolds and the Mendips but he next four days turned out to be some of the hilliest routes.
I was dreading it, I hate hills, which is why I'd cleverly (or not!) spent hours changing the route to minimise elevation changes and therefore hill climbs. It only took me a couple of miles to realised all this was in vain and that I should have put it a lot of hill cycle training beforehand; it was too late now.
Did I say that I hate hills?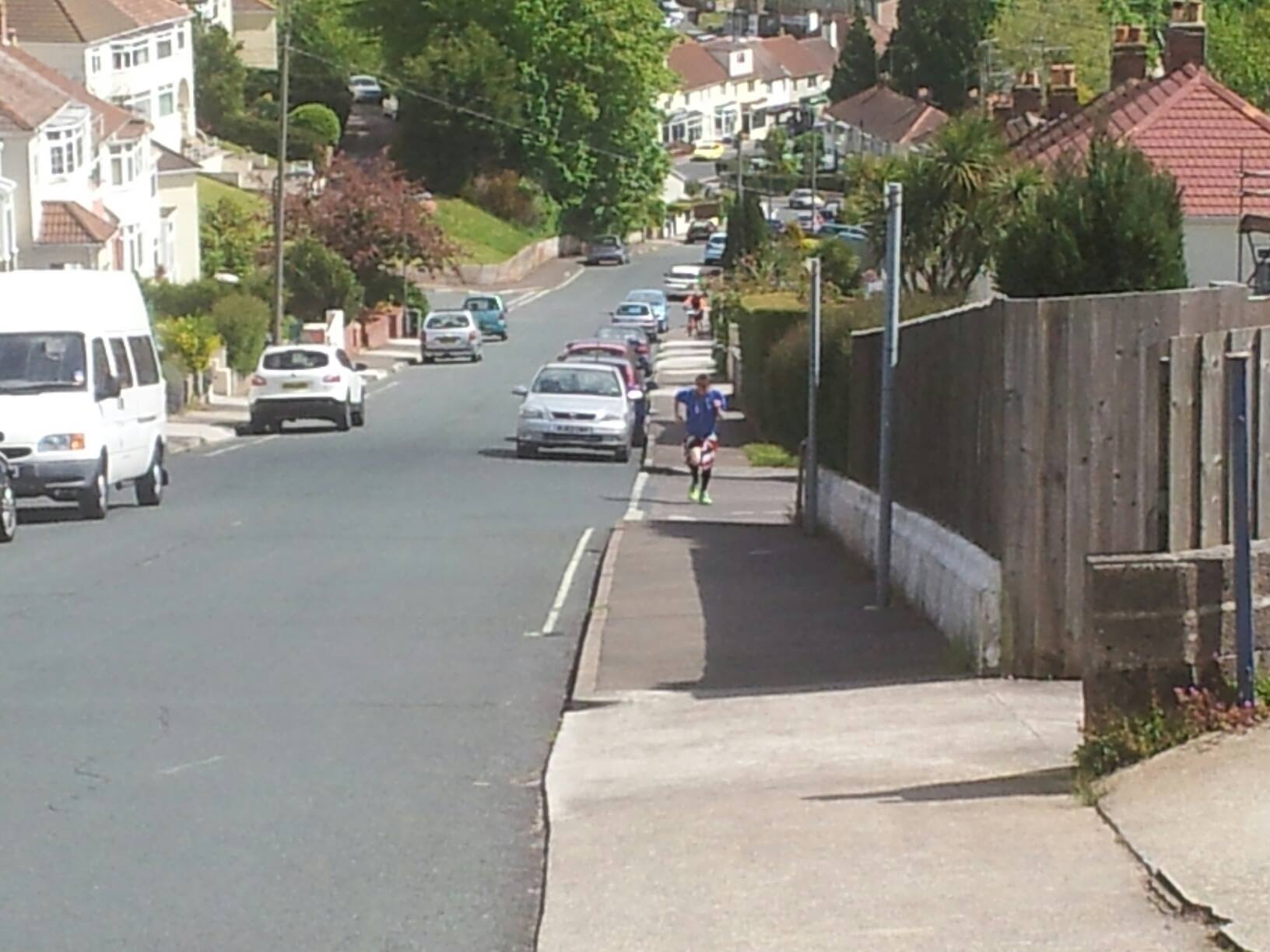 Just two miles into the route came our first steep hill, a road still within the boundary of Torquay.
I slowed as I cycled and watched as Gav ran on, powering up the hill. Half way up my unfit legs told me to get off the bike and walk.
I was disappointed but as I walked up I looked at the terracing of the houses and realised it was probably the steepest I'd ever attempted to cycle up.
And just at moment Gav's sister Kaylie caught the moment on camera.
The next 3km were up hill all the way and at this point I lost Gav.
Here I was, meant to be supporting someone who'd already run 780 miles and I couldn't even keep up. I didn't catch up with Gavin until we reached the first checkpoint, 5 miles or so in.
Downhill(ish) to Totnes, then up, up, up
Kaylie joined us for the run to Totnes, running alonside her brother for the next 5 miles.
The lack of inclines pleased me and finally I felt like I was doing what I set out to do, thoroughly enjoying cycling through the beautiful countryside.
Totnes approached, where my Dad was waiting with my first pasty of the trip, which on reflection probably wasn't a good idea.
Out of Totnes the road just went up and up, on a road not suitable for cars, or my bike, at least that's what it felt like.
Through miles and miles of countryside we went and reached the halfway point at our first pub stop, the Avon Inn at Avonwick. I looked forward to a beer until I looked at the elevation of the road that came next. I ordered a coke.
Climbing and falling
The new few miles were pretty good although it was getting pretty windy and we could see rain in the distance.
Gav had told me he would run at 5mph to conserve energy but at 24 miles in he was caning it at 9mph, as the photo shows.
The road was getting busier, the clouds were getting darker but we pressed towards Plymouth.
Through the pouring rain I cycled into Plymouth and towards the finish line. My odometer told me I'd already clocked 35 miles, the most I'd ever cycled by 10 miles…and that was on the flat.
Gav and I neared the finish line and just before crossing the road I fell off my bike, with my feet still in the clips. My elbow felt like it was broken, I may have sworn a little.
By the time we reached the finish the sky was turning quite blue…as was my arm.
Plymouth. Hi!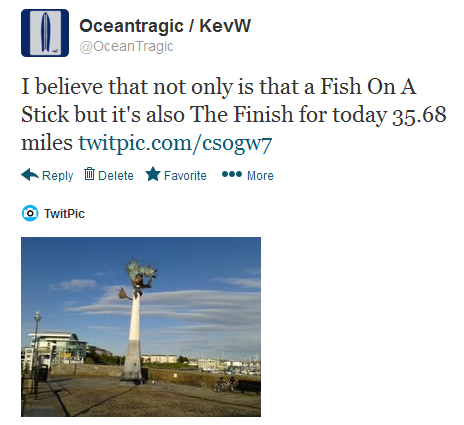 Gav ran with the torch to the finish, near the Fish on a Stick and the Mayflower steps.
I was pretty relieved today and its weather and its hills was over.

And finally…
Gav knew the cold water in the harbour would soothe his legs so like our countrymen in 1620 he descended the Mayflower steps in search of salvation.
httpv://youtu.be/ynjPNTVRH70