This article is about my involvement with Gav's challenge, where I cycled next to him during the last four days of his challenge, whilst he ran 30 miles or more each day for JDRF and DiabetesUK.
If you're expecting to find out about how Gav got on with his diabetes or running you're going to be disappointed, you'll have to wait and buy the book or attend one of his talks. Sorry but his tale is his to tell, not mine.
Donation, donation, donation
Friday, 24th May 013 – Plymouth to Bodmin
Today would see us leave from Home Park, the home of Plymouth Football Club and attempt to make it to Bodmin, over some hills potentially worse than yesterday. At least yesterday's hills were at the start, today they were all the way through.
The planned route and elevation
Today's route on flat land was due to be 33.1 miles, or 53.3km in new money.
You can click on the map to show it in Google maps:



Oh my God, my legs hurt
After the longest ride I'd ever done and a couple of pints of (medicinal!) cider later I'd almost fallen asleep in my dinner, but typically didn't sleep once in bed as my legs were shouting "you idiot, why didn't you do a bit more cycle training for this!" at me throughout the night.
They didn't feel any better in the morning.
I compared the elevation plans for yesterday and today, with dread.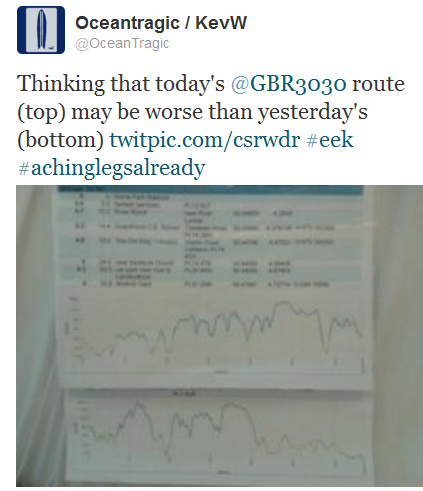 Crossing the Tamar
Gav and I set off from Plymouth Argyle FC's ground, home park and headed towards the Tamar Bridge. As we got nearer it struck me that this was a momentous time as Gavin stepped foot into the last county in Great Britain, leaving him with around 90 miles still left.
httpv://youtu.be/aJQBU0BwKY4
It's pretty but it's hilly
The countryside around us as we went north turned into rolling hills, often full of ripening rapeseed.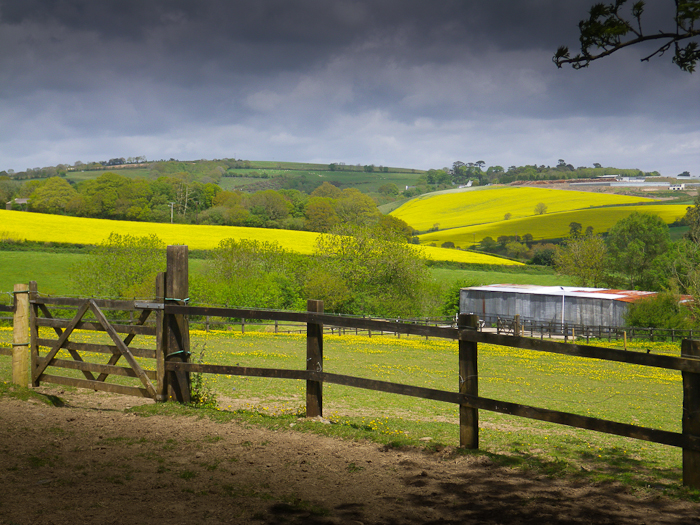 A slight headwind
The hills meant I'd lost Gavin once again as he surged forward as if they were flat. I had no idea how far behind I was but kept on going up the hills hoping to catch him up at some point before the next checkpoint at Quethiock.
The wind was heading directly towards us for most of the day but only became a real problem when out in the open. Here's a sample of what we faced, see how the wires sway and the speed of the clouds. The shaky camera was caused by the gusts:
httpv://youtu.be/oPLwijC5LNM
Where's Gav?
I reached Quethiock and found my Dad there waiting with a sandwich for my lunch, but where was Gav? He was way ahead of me, but I'd caned it down any available hills and never caught up with him. He called, he was at Blunts, a village I'd passed through 2.4 miles beforehand. He was lost and had done far too many miles already, but luckily his aunt and sister were with him.
I didn't quite make it
After Quethiock I pressed on but due to pretty steep hills and an horrendous gusting wind I called it a day at Liskeard, having done only 21 miles. If there'd been no wind I'm sure I would have managed the full distance. I guess I'd only set out to cycle 100 miles with Gav, that's 25 a day and I'd already covered 57 in two days, but I was disappointed about stopping early.
The route I covered was: