This article is about my involvement with Gav's challenge, where I cycled next to him during the last four days of his challenge, whilst he ran 30 miles or more each day for JDRF and DiabetesUK.
If you're expecting to find out about how Gav got on with his diabetes or running you're going to be disappointed, you'll have to wait and buy the book or attend one of his talks. Sorry but his tale is his to tell, not mine.
Saturday, 25th May 2013 – Bodmin to St Agnes
Today was my 12 year old daughter Amy's big day: she'd cycle her longest distance ever (27 miles); meet an inspirational athlete who, like her, has type 1 diabetes; raise lots of money for charity; run with Gavin into St Agnes carrying his Olympic Torch. My wife Jane would also be cycling with us today.
The planned route and elevation
Late the night before I changed the plan slightly so we'd join Gavin about 3 miles in, halfway up a 500ft hill. Why? Well to be honest I'd had enough of hills by this point and I didn't want Amy's big day to start with a 500ft hill climb, knackering her out with still 27 miles cycling and a run to the end with the Olympic Torch.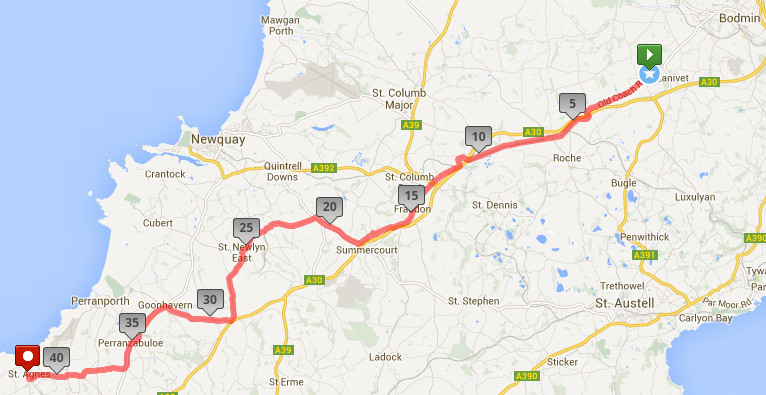 Setting off from Bodmin Jail, or Gaol to ye olde rascals
Gav was going to depart from Bodmin Jail and although we weren't going to cycle from there we went to see him off on his run, to then join him 3 miles later. When we got there everyone was downstairs in the old jail checking out the cells, we ventured down there too but I knew Amy wouldn't last long, she hates things like that.
Afterwards it was photo time and Gav had a little issue to sort out before we could start his run: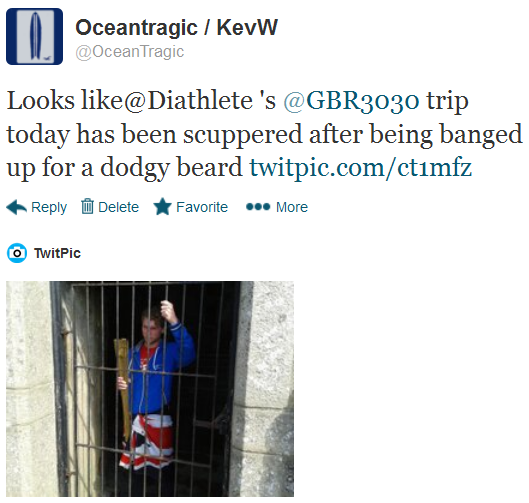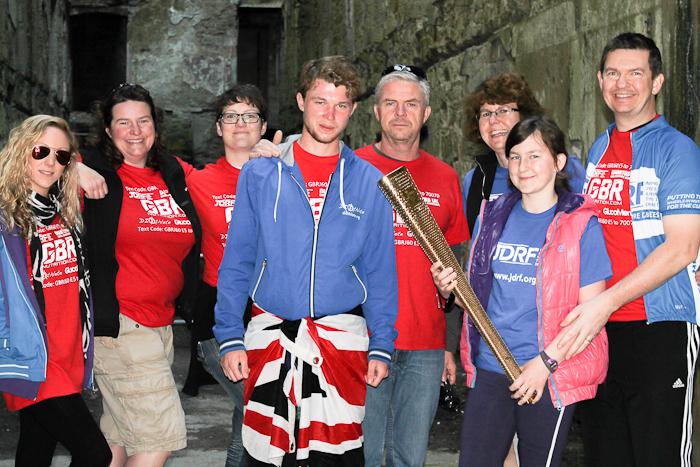 Our journey begins
Meeting Gav three miles in we parked the car in a country layby and left it there, hoping it would still be there 10 hours later. We were halfway up the hill we were trying to avoid but actually it didn't seem to bad, probably because yesterday's gales weren't there any more, leaving a lovely sunny day for us to enjoy.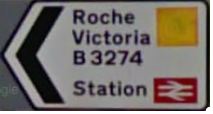 After a couple of miles Gav's sister Kaylie joined him running and Amy warmed to her straight away, cycling next to her for the next few miles.
We passed by a road sign for a town which made me smile, especially whilst on a diabetes-related trip.
Lovely countryside, quite roads
For the next few miles we cycled on cycleways, the Goss Moor trail (where people on horseback rode past) and very quiet roads. The sun was shining down and I only was pleased not to need the fleece+jacket I'd worn on the previous two days.
Amy and Jane were enjoying themselves too.
httpv://youtu.be/Q5-pgPmXt1s
A great support team
Throughout the day Gavin's family met us at different points, giving Gav a cheer as he neared them, motivating through the next stretch.
httpv://youtu.be/LtrLYHkEZaM
Gav in "Countryside Meltdown Shocker"
On the way to the final checkpoint, Gav laughingly had a bit of a breakdown, longing for tarmac and concrete. Watch it happen:
httpv://youtu.be/3fl3tJjzNcc
A cock-up of a finale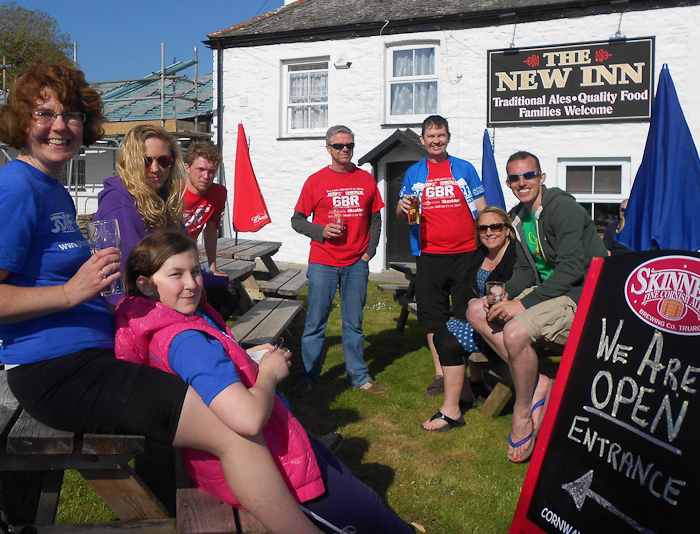 With 6 miles or so to go we stopped at the New Inn at Goonhavern for a quick drink, meeting up with Matthew Wood and his wife Clare – Matthew ran the first day with Gav and was going to run the last too. Gav's Dad Vince bought me a refreshing pint of shandy and as he passed it to me Gav said "right, I'm off to finish this thing".
"Erm, ok, Gav, I'd better drink this first."
Matthew was staying in St Agnes and told have which way to run, but it differed to the plan I'd done previously, but I hatched a plan where he'd go one way and we'd go the other and get in front of him, to be in St Agnes ready for his arrival. Amy would then collect the torch and run with Gav to the end point, the St Agnes Hotel.
If only it had worked out like that!
Leaving twenty minutes later than Gav we sped down the first hill – at 35mph for me: "woohoo…yeah…damn, that hill goes up…and up…oh kak".
The series of hills kept coming and coming, downhill then uphill and downhill again.
After cycling over 23 miles already the last 4 were killers to our tired legs.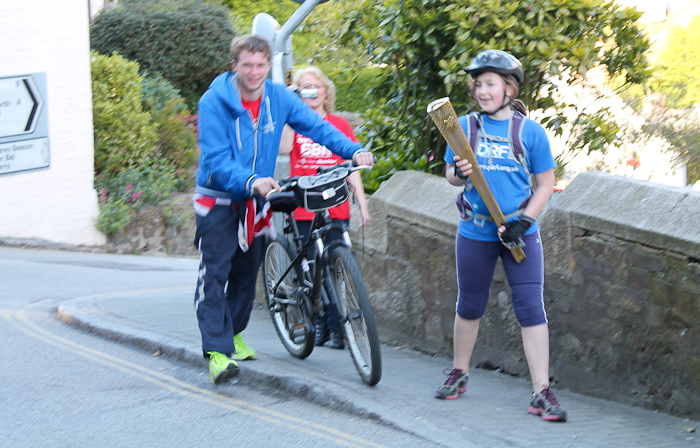 This was broken by calls from Emilia, then Gav, then Vince (Gav's Dad) then Emilia again; all asking us where we were and when we'd arrive. I had no clue.
Finally, St Agnes neared and Gav met us, gave the Olympic Torch to Amy and ran up the hill with her bike, whilst Jane and I followed, slowly.
Amy was elated, but sadly for Jane and myself we'd missed seeing her finish with the torch.