This article is about my involvement with Gav's challenge, where I cycled next to him during the last four days of his challenge, whilst he ran 30 miles or more each day for JDRF and DiabetesUK.
If you're expecting to find out about how Gav got on with his diabetes or running you're going to be disappointed, you'll have to wait and buy the book or attend one of his talks. Sorry but his tale is his to tell, not mine.
Donation, donation, donation
Sunday, 26th May 2013 – St Agnes to Land's End
Today's route was going to be a tough one, at least 35 miles and having a 500ft hill towards the end.
Early on whilst planning this route I tried to convince Gav to start from somewhere further south, maybe Portreath or the Hell's Mouth Cafe, so as to shorten the distance and make it easier on himself. Gav was having none of my advice and replied to one email with "If I've made it that far on the GBR30/30 then nothing will stop me, I will conquer any hills and any distance"…or something like that.
I felt for Matthew (Wood), Gav's friend who ran with him on day one of the challenge starting at John O' Groats; I don't think he knew anything about this; I wasn't sure how he'd feel about this. I knew Matthew had completed marathons but 35 milers, up big hills. I decided my best policy was to keep quiet about the route as Matthew followed me on Twitter.
Personally, I was never going to start from St Agnes as I was camping down near Leedstown, near Hayle, so I'd always planned to start from me, which meant I'd accompany Gav and Matthew for the last 20 miles.
Gav's (planned) route, my route and elevation
Gav's planned route was as follows – I say planned route as Gav decided that he hadn't seen enough of Great Britain on his travels and decided to take a wrong turn, turning this planned 35 mile day into 40 miles!. I joined them at Hayle, roughly where the green triangle is shown: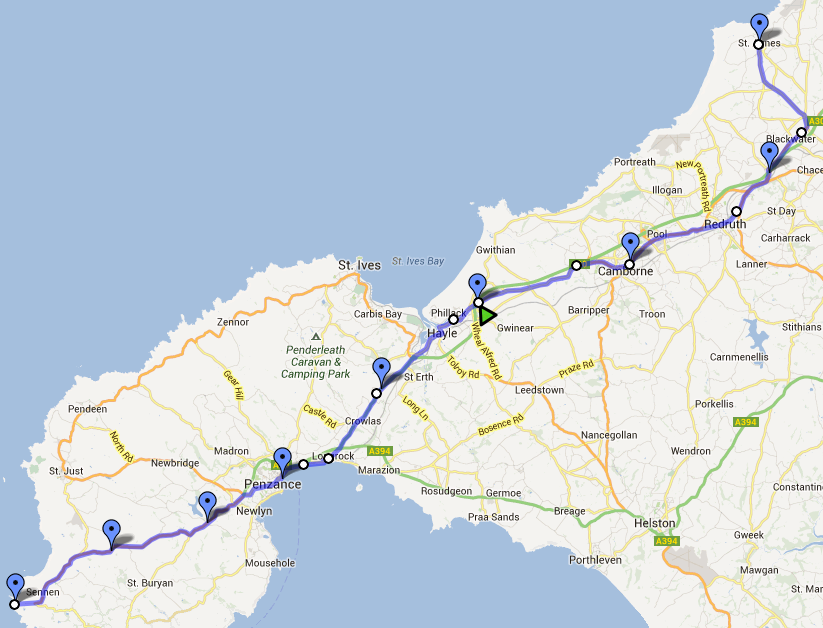 Feeling guilty, getting nervous
Waking up to a glorious sunny day at the campsite my family and I chilled out around the pool, before I headed of to meet Gav and Mat shortly after lunch. In a way I felt a little guilty about this but in honestly laying by the pool felt great. After doing over 80 miles on my bike so far I, or more to the point my bottom, was glad of the break.
I was starting to feel nervous, a strange feeling that I'd not had on any of the previous days. I knew why: I'm no cyclist or athlete and I really didn't want to muck up Gav's big day by being too slow etc.. It was stupid really, I knew it was but I couldn't do anything about it.
The "Where's Gav?" Game
Jane drove me and my bike to the meeting point as we'd had no word from Gav. This was no surprise once we found out he was lost. Jane drove me up country lane after country lane trying to find the missing runners but we never did find them, so we went back to the meet point and eventually Gav and Matthew turned up, looking pretty fresh considering they'd already run about 20 miles.
Off we, erm I, go
Setting off from Hayle I felt supremely confident about the route: I didn't really need a map; I consider this part of Cornwall as like a second home having spent so much time around these parts.
Along the Hayle estuary, onto the A30, off to Penzance, up the hill past Drift and then Land's End. It couldn't have been simpler I thought, forgetting that these guys who had already run 20 miles still had 20 to go. I was on a bike and much of it was downhill, so on came the (slight) guilt again.
Whilst much of it was on the A30 the route was generally beautiful, with Kites and Buzzards flying around us, sea alternating from this side to that and back again.
A chance meeting – this is what GBR30/30 is all about
On the A30 we stopped in a lay by for Gav to test his blood glucose. A random Land Rover pulled up and out go two people and walked over to us. It seemed a little strange at first.
"Hi" they said and told us that they'd followed the GBR30/30 information on Facebook and just wanted to come and meet Gav and say hello. They lived in Truro where the female was diagnosed with Type 1 Diabetes within the last year, aged 29. She was inspired by Gav and his challenge and just wanted to say "hi". This to me epitomises GBR30/30: to bring awareness to people diagnosed with Type 1 Diabetes so that they can see that the can achieve great things, they may need to work around/with diabetes but it need not stop them. It was fitting that this encounter happened on the last day of the GBR30/30.
Water, water, give me water, says Gav
The route I'd planned would see Gav running into Penzance around the beautiful bay, in front of the mighty St Michael's Mount. Things changed though when Gav saw the sea and he decided to go in for a little paddle, to help soothe his legs.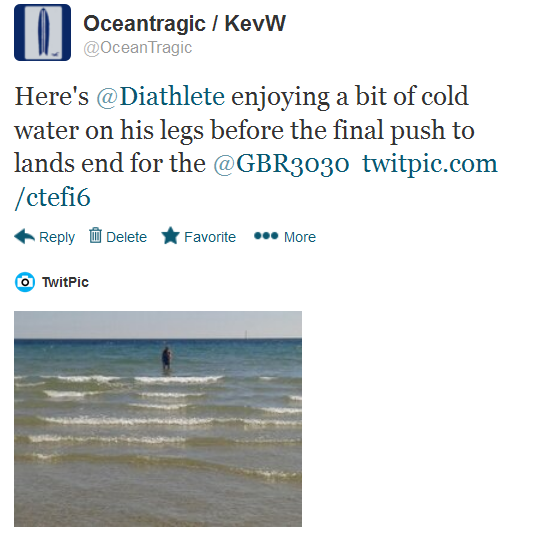 Gav stands proudly in front of St Michael's Mount, with 12 miles to go until Land's End: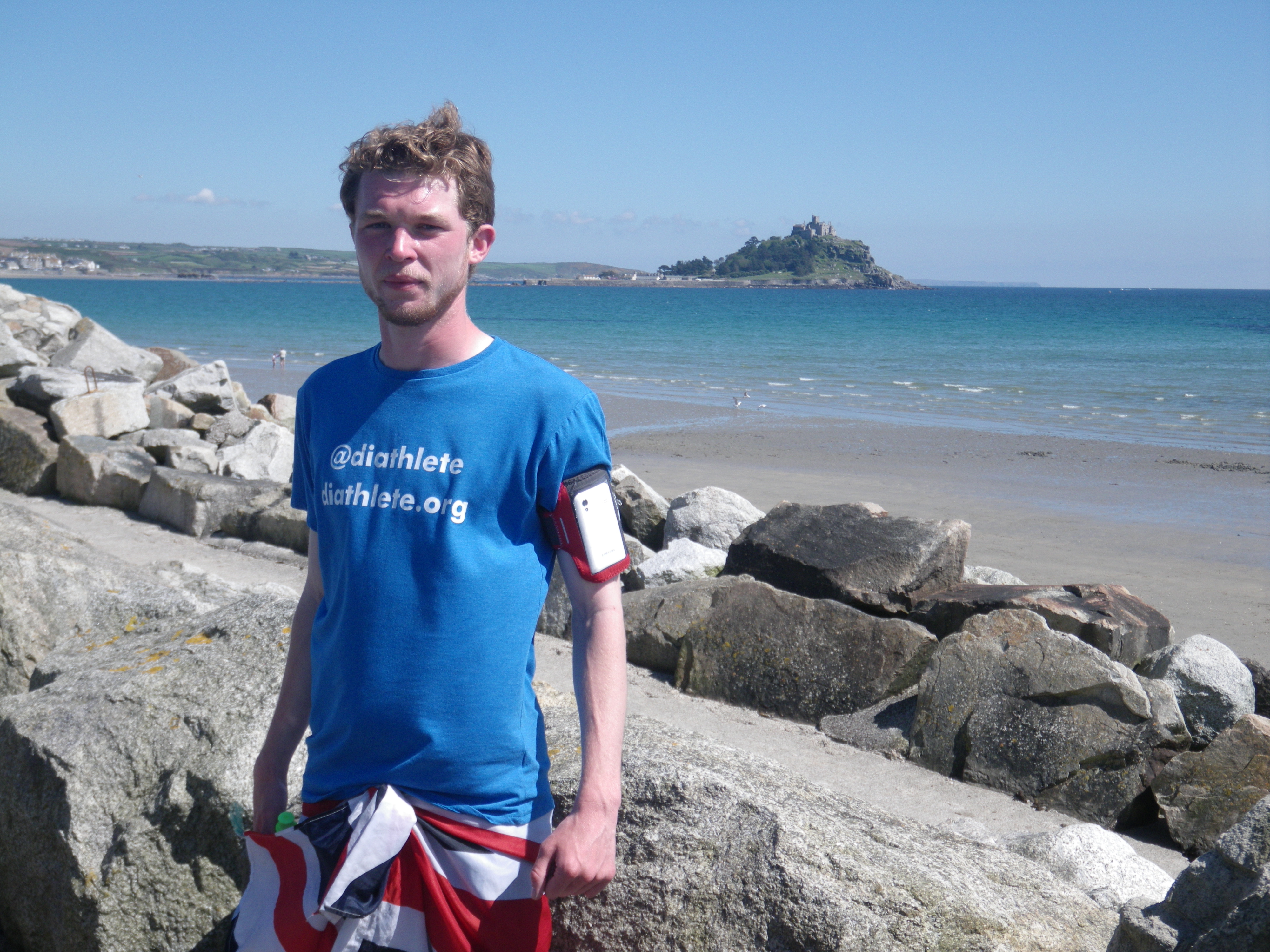 So much support
At Penzance we met with everyone else before the final push. Well, I say push as it was nothing, it was still TEN MILES. That's a distance I couldn't run in a week, let alone one day where 30 miles had already been run. Knowing how slow I am at going up hills and not wanting to slow Gav/Matthew down I put my bike on the car and got taken to the next meet point and cycled on from there. In my mind the hill was too steep for me but as I drove up it I was truly gutted I didn't attempt it.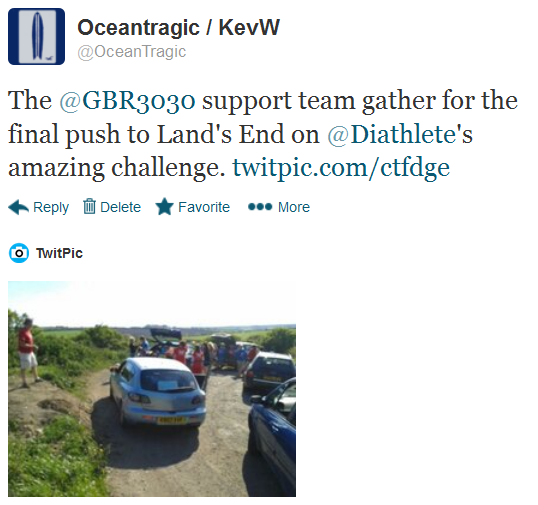 Growing Oceans
Gav powered on towards Land's End whilst I stayed at the back cycling behind Matthew, who had already run one of his furthest distances ever but still had 5 miles to go. I tried offering some encouragement but stayed away from the "just one more hill" comment as I could never be sure. Gav was on a mission, there was no way we were going to catch him up and I knew at this point that I wouldn't get to see Gav finish at Land's End, yet it didn't matter as Matthew seemed to need my support more than Gav did at the moment.
The oceans grew bigger and bigger as the horizon opened up in front of us. We could see clouds on the horizon, or was it, no, actually, that's the Isles of Scilly. Wow!
The last push
Safe in the assumption that Gav had already finished, Matthew strode on, passing the first/last pub in England, going through Sennen and finally on the straight towards the Land's End Visitor Centre.
Gav's Dad Vince was waiting with the Olympic Torch for Matt to pick up and run with.
Matt strode on, we could hear cheers getting louder and louder pulling Matthew towards the finish line.
Fantastic end
Everyone celebrated together, one big team, those that had done it, those that had supported it, all happy together. Gav looked knackered but elated, drenched in champagne. Now it was time for the photos at the signpost and this seemed to go on forever.
Other kids just there for the day saw the Olympic Torch and had their pictures taken with it; anyone we told about what Gav had just completed was amazed, many saying "ran, did you say ran?" to me; the photo taking went on and on.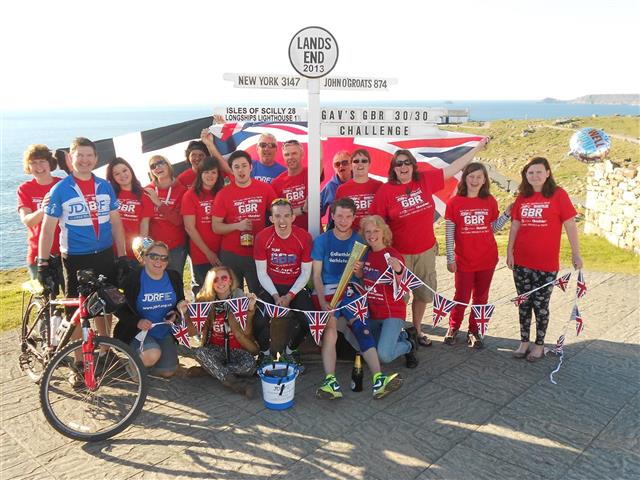 Gav's last day run video
A short video of Gav's run, with some of the photos at the end

Matthew's last day run video
Much more footage of Matthew, because I stayed with him for support

And finally…