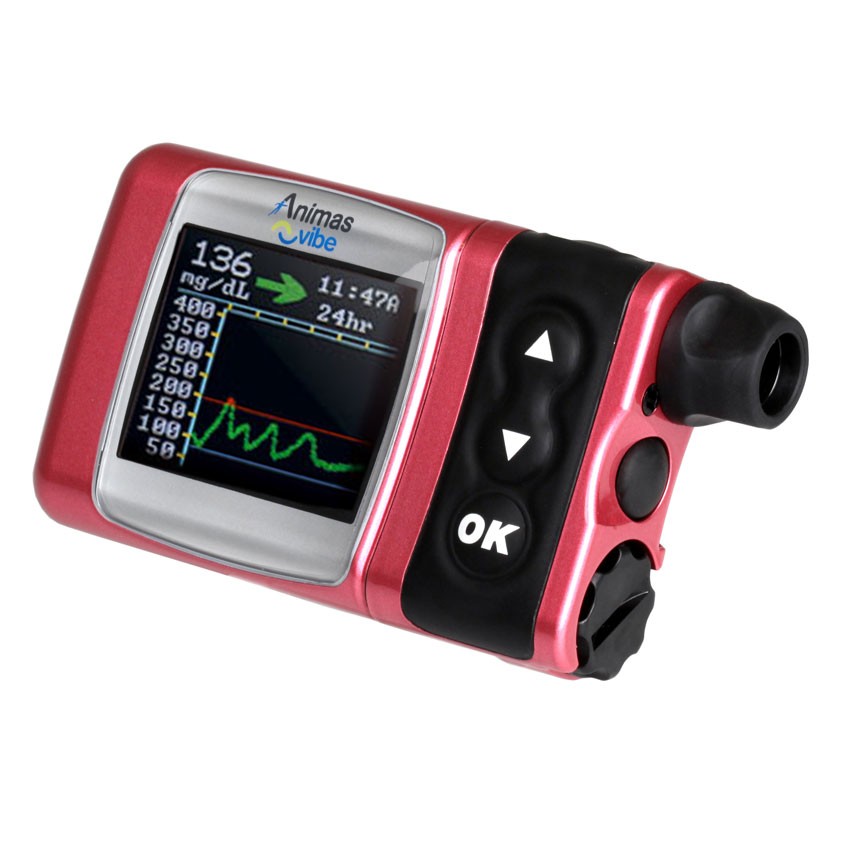 In May 2013 we chose Animas for Amy's pump for many reasons, one of which was that in the future we might like to get CGM (Continuous Glucose Monitoring) and Animas's in-built CGM display unit would make using CGM cheaper – because we wouldn't need to purchase Dexcom's own display unit.
Continuous Glucose Monitoring? What's that then?
A CGM system consists of a sensor which is worn on the body and has a small wire just under the skin which constantly senses the glucose in the interstitial fluid. This sensor connects to a transmitter which sends data to the receiver – in our case this will be the Animas Vibe insulin pump – which can show the user what their glucose level is like. It's important to know that as it checks interstitial fluid and not blood that the glucose level can be up to 15 minutes behind the actual glucose level.
The Animas Vibe links up with Dexcom's G4 system.
CGM, an expensive option
There's no doubt about it CGM is expensive.
One sensor costs between £45 (Animas) and £62.50 (third party resellers).
Doesn't sound too bad does it, but then again it's only guaranteed to last one week. ONE WEEK!
If you used it full time, one sensor per week, plus needing two transmitters per year you'd be looking at paying over £3000 and that's using the cheapest pricing available.
Luckily some manage to get their sensors to last a fair bit longer than that, bringing the cost down dramatically, but then again that's going against the advice of Dexcom so I'm not suggesting anyone does it. You don't have to use CGM full time, you can use it for as long as a sensor lasts, then take a break before put a new one on.
Does anyone really need CGM?
It's a good question. Many health care professionals would say no, for many reasons. They're definitely worried about the psychological effects of yet another thing to do for diabetes and I can understand this.
Twenty, possibly even 10 or 5, years ago people weren't using CGM so why do we need it now?
I guess the truth is that we don't need it now: by understanding how your body reacts to glucose, insulin, stresses and exercise (etc.) some people can really do well to avoid highs and lows, but doing this takes a lot of effort.
Some people will have a clinical need to use CGM; Amy isn't one of them.
On the other hand CGM will tell you what's going on with your glucose level throughout the day, alarming you when you go out of range. It tells you if you're going up or down or not and it shows what's been happening over the last so many hours. It effectively performs Basal Tests each and every night something which is done by many pump users or their parents.
Dexcom G4
If you're in the UK you can purchase sensors, transmitters and the stand alone display unit for Dexcom G4 from third party resellers.
You can do this if you want to use it as an adult.
You can do this if you want to use it for your child, if they're 2 years old or more.
You don't even need to get a letter from your hospital to say you or your child has Type 1 Diabetes.
Animas and their Dexcom G4 licence…for adults
Animas are licensed to sell Dexcom sensors and transmitters to adults in the UK. You don't even have to be an Animas pump user to be able to buy sensors from them.
So if you're an adult with an Animas Vibe you can purchase Dexcom sensors/transmitters and have CGM displayed on your pump.
Animas and their Dexcom G4 licence…for kids (2-18 years)
We were told in April 2013 that by the time Amy got her pump one month later Animas would have their licence to sell Dexcom G4 sensors/transmitters for use by kids.
It's never arrived.
We've been patiently waiting.
We've been getting frustrated at the waiting game.
Where's the logic?
In the UK anyone can buy Dexcom G4 sensors/transmitters, whether it be from Animas or a third party reseller.
In the UK an adult can buy their Dexcom G4 sensors/transmitters direct from Animas.
In the UK a parent can buy Dexcom G4 sensors/transmitters for their child from a third party reseller.
In the UK a parent CANNOT buy these same things from Animas for their child.
Where's the logic?
As a computer programmer this drives me mad.
Clearly there's more to it that I don't know about.
Finding an alternative method
I've been very keen to buy through Animas as their prices are so much lower and effectively it means you can get 11 sensors for the price of 8 bought from a third party reseller. As one sensor can last three or four weeks this means that you'd get at least two if not three months more of sensing by buying from Animas.
We'd been told that our hospital would not fund the CGM (fair enough, it's expensive and there's no clinical need) but they would help us talk with Animas. I don't want to go into detail about this but it's not happened, I've felt very unsupported in our quest and frankly it's really annoyed me. Nine months after originally asking for support I've heard they've sent us a letter for us to send to Animas to hopefully prove their support for Amy's case.
However maybe it's all too late.
Is that a licence I can see in the distance?
The diabetes online community rumour mill has been working overtime recently.
There's been talk of Animas holding a meeting/presentation/symposium at the Diabetes UK Professional Conference in Liverpool this week.
There's been rumours that Animas may well be announcing that they've got their licence to sell Dexcom G4 products for kids (aged 2-18).
Recently a post on a Facebook group asked if anyone had heard anything.
They hadn't.
It started a lot of posting activity, with people emailing or calling their Animas rep, or their Diabetes Specialist Nurse.
Whilst no Animas rep would confirm or deny anything one nurse may well have let the cat of the bag.
It seems quite likely that this week the announcement will be made that April will be the launch date.
But we've been here before with rumours of licences and dates so I'll take this 'news' with a pinch of salt.
Of course I really hope this rumour is true.