I joined many other friends and local people with diabetes at the 6th Annual Diabetes Wellness Day South, held by the Diabetes Research & Wellness Foundation in Southampton. Last year's event was a good one so I had high hopes that this one would be as good; it was. The Wellness Days are whole day events which cost £5, starting at 9am and finishing at 4pm, with a lovely lunch included (worth the £5 alone). There's many presentations plus there's the opportunity to 'Meet the Experts' during a mid-morning break.
What made this day so good for me was not just the presentations/demos/food/free-biscuits but the fact that I shared it with friends from the diabetes online community and more importantly my Dad who recently become a volunteer helper for DRWF. Dad has Type 2 Diabetes, something he's lived with for years.
Starting the day off
Dad and I arrived at the same time and it was lovely to see the DRWF people chat with him and knowing that he can talk the hind legs off a donkey I left them to it. I bumped into Michelle and had a chat, said hello to Helen, then Lee, Sarah, Claire before heading off to chat with my friends Tanwen, Kelly and Steve. It looked like the event itself might get in the way of networking 🙂
Human Islet Cell Isolation and Transplantation
Professor Paul Johnston gave a very interesting talk about his work with islet cell transplantation, cells which he explained only form 2% of the pancreas, so most people with Type 1 have a pancreas which is 98% ok. It makes sense then the a transplantation of islet cells is a better option than a full pancreas transplant giving the risk of rejection for a new organ. I had no idea how quick the transplantation process was for the patient, less than an hour. Just imagine that, you spend years and years dealing with diabetes and in less than hour you're cured, at least for a few years. Obviously it's not quite that simple, there's a little more to it.
Rae-Marie Lawson spoke about the islet cell transplant she's had and how she's getting on now, an uplifting story considering given the lack of hypo awareness she had.
Meet the Experts
This breakout session gave everyone the chance to have a chat with the representatives from various companies, NHS departments and charities.
There was another group there with a stall, the Sugarbuddies, a new initiative for peer support for the newly diagnosed Type 1s in the area. I'm proud of Laura, Kelly, Tanwen, Steve and Meghan who are a driving force behind this project and with their backing it's sure to do well.
I spent much of the breakout session speaking with Mandy from PEDS (Ponies Educating Diabetics and Siblings) which is held at the local stables where my eldest daughter Emilia has been doing her Duke of Edinburgh volunteering recently. I'd never met Mandy before but she recognised me instantly from my peer support article in the Daily Echo. Mandy was lovely and it's a great thing she's doing with PEDS.
What the dog nose but can't tell you
Next up was a talk about Medical Alert Dogs and how they help with alerting their owners that they (or their child) is going too low or too high. I've not only seen this talk three times now but I've seen Claire Pesterfield's dog Magic alert her that she was hypo so I understand how good they are. Whilst I also love the idea of having one for Amy I'm not sure our cats would like it.
I also had another idea…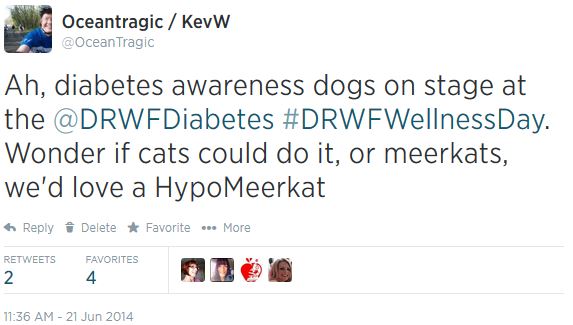 Supermarket Sweep
Sarah Woodman (Diabetes Specialist Dietician) – another one of the Sugarbuddies – held a session talking about food, or rather food choices, about labelling and healthy options. I'm not sure much of it was new information to people with Type 1 giving the regime they have to follow carb counting everything but I'm sure the majority of the audience (of Type 2s) would have learned a lot.
Given some of the recent changes in food advice I was pleased to hear Sarah get a particular point across:


I love eggs and eat quite a few per week, my total cholesterol is 2.58, so clearly that old advice was rubbish.
Diabetes, Ramadan and the Hajj
Dr Hala Alsafadi gave a quick presentation on observing the religious festivals which managing diabetes.
Ramadan, which started yesterday (29th June 2014), is a period where followers fast between sunrise and sunset in the locality. Ramadan shifts throughout the 365 day calendar year and for those resident in the UK the new few years are going to prove tough as Ramadan spans the longest days of the year. Today where I live sunrise was 4:54am and sunset is 9:23pm, so that's a period of 16.5 hours where observers cannot eat, that's got to be pretty tough for anyone, let alone with Type 1 and Type 2.
Luckily people with Type 1 Diabetes are exempt from this, however many choose to observe the fast.
Diabetes UK have produced some advice about Ramadan: Managing Diabetes During Ramadan
The Tai Chi Escape Plan
After a healthy lunch it was time for the Tai Chi session but neither me,Steve,Kelly,Tanwen or Laura fancied doing it so we slid out and headed to the nearby McDonalds for a drink and a chat. It's such a nice little group we've got locally, just a shame Meghan couldn't make it too.
Tabs and Jabs
Dr Mayank Patel started the last presentation talking about the many different types of medications available and mentioning some which he hoped people weren't taking, luckily no-one raised their hands.
Advanced Specialist Pharmacist Philip Newland-Jones finished the presentation talking about prescriptions, medication and pharmacists. It was the first time I'd heard Philip talk and I thought he did really well, getting his points across, having empathy with the audience and especially some disgruntled ones.
Ask the Experts
This was a open question session for the audience to ask whatever they liked. Questions ranged across many subjects and each was answered by one of panel members (Dr Patrick Sharp, Jan Mitchell and Sarah Woodman).