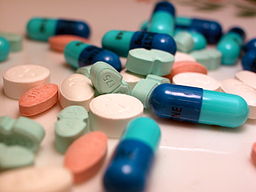 A few months ago a local parent of a child with Type 1 posted a request for help from Portsmouth University's Pharmacy department for people to be interviewed by their students. It didn't sound like my cup of tea to start with but then it dawned on me: I'd get two hours to talk about life with Diabetes to people who actually wanted to listen. Oh yeah, hello, I'm in.
As I walked through the corridors of the University on Thursday afternoon I wondered who was more nervous, me or the students. It turned out it was the students, but only at the start as they got into the flow after question 1 and asked some pretty good questions to further their learning.
Working in pairs one student interviewed me whilst another operated the videoing and took notes, lots and lots of notes. They use the videos to watch their own performance so that they can improve their interviewing technique and learn how to phrase questions better. To be honest though they didn't need to worry about asking me open questions to get me to open up.
Bearing in mind that they were only year 1 students who had only been at Uni for a few months they all amazed me with their level of understanding of everything I said. In the first couple of sessions (of the 7 or 8 that I did) I threw out words like 'insulin', 'HbA1c', 'hypo' and 'postprandial' whilst tentatively saying other things like 'CGM', 'diabetic ketoacidosis' and 'diabulimia'. But they knew about everything I said and listened without requiring further explanation; I guessed they had been prepping hard beforehand.
After 2.5 hours of being interviewed I was pleased on many levels: I got to talk to people who were really interested; I got to answer so many great questions; I helped the students realise the reality of living with a child with Type 1; I got through talking about Amy's diagnosis without feeling too sad.
There was one moment which made me smile, through the sheer innocence of the question:


I'm so glad I took part in this event as I found it worthwhile for me and helping out our future pharmacists can only be a good thing…unless of course I said anything controversial…but I wouldn't do that, would I? *ahem*