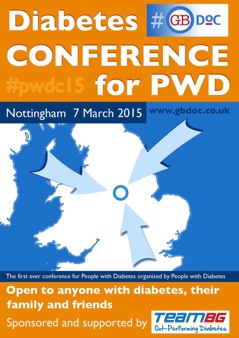 On Saturday I had a brilliant time attending the first ever conference for people with diabetes, run by people with diabetes.
Its concept was a gamble, running several simultaneous chats based on an agenda only compiled at the start of the conference, by the people attending the conference.
Did the concept work then?
Hell yeah!
In fact it's hard to imagine how it could have gone much better (although of course I have a few suggestions, post to follow).
Thank you, thank you, thank you
To all in TeamBloodGlucose, especially Midge, Paul and Rebecca, thank you so much for creating, hosting and subsidising this event. I've always respected the work TeamBG do, even more so now.
You gave everyone who frequents any of the online tweetchats and multiple Facebook groups the opportunity to meet face to face after years of chatting online.
Whilst I've met lots of people the opportunity to meet people from the other side of the country, like Lavinia and Jeff, in a central(ish) location was great.
The event starts…prepare yourself for some name dropping.
Arriving in MediCity I bumped into Nick (@t1diabeticbiker) and Ingrid, then straight into Jules (@Jules1315) and her family. Inside the venue I didn't know where to start, who to talk to first. The lovely Lavinia came up for a hug and a chat, followed by Alan (no hug 🙂 ) and then Phillipa, James and many, many more.
Taking our seats and bumping into Sam (@sam_dysch) whom I didn't recognise I sat down next to someone I didn't know, except I did – although I didn't realise at the time – it was Allan (@Nyadach) who only a few days before had recommended some JDRF-coloured cycling shorts to me. Allan is quite an experienced cyclist, something he'll need for his unaccompanied-Round-the-World-cycle-tour next year.
Within a few minutes I'd also met Rachel, Marianne, Steve, Suzi, Paul and many, many more. Then Sacha, Andrew, Jeff, Adrian, Lesley, Lis… you get the picture.
Drawing up the agenda
Midge took the stage and welcomed everyone to the event and explained how it would work: we all had pads/pens and we were to spend 5 minutes writing down topics we'd like to discuss that day.
Afterwards people were invited to address the conference and say what they wanted to talk about, at which point Paul wrote down their topic on the list.
Whilst we all had coffee Paul and Midge rewrote all the topics into an agenda for the day.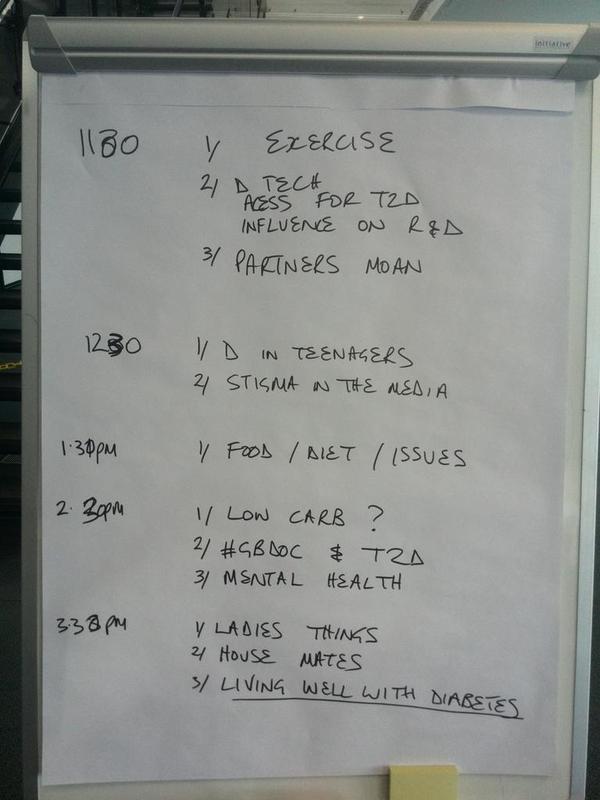 Thanks to Eva Palik for the use of her photo.
I wouldn't say the day stuck to those times or even the agenda as some sessions merged to discuss other topics, others seems to focus on one part.




I'll detail the sessions in the next post.