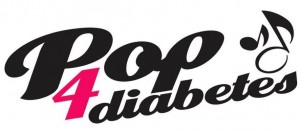 A couple of weeks ago Jane and I were invited to attend the Pop4Diabetes ball as a thank you from DRWF for things I've done for them. Claire and Lee from DRWF hosted us for the evening, alongside other volunteers such as Lynwood who does a lot of fundraising and other events for them.
What made the evening more special was that my Dad and step-mum Liz were also invited by Claire and Lee. My Dad has had Type 2 for quite some time but it was only Amy's diagnosis which spurred me on to learn more about his Type 2 and ultimately to get him to learn more about it. Since the DRWF Wellness Day in 2013 Dad has volunteered for DRWF, helping them with mailshots, poster deliveries and many other things. He's given a good deal of time helping out for the good of others so it was lovely to see him be invited to attend the ball too.
Pop4Diabetes is an annual ball like event, spearheaded by Iris Board who's son Shane was diagnosed with Type 1 Diabetes several years ago. Shane is an actor/singer/presenter who has released various Type 1 oriented songs over the years, including the recent Find A Cure.
The event is frequented by celebrities past and present and this year Anita Dobson – Angie from Eastenders – was there supporting the event, along with internet star Jack Jones.
Music and dancing is the theme behind this event and it was great to hear songs from Shane and others, as well as songs and dancing from Naomi Bowring, a talented dancer/singer and Miss England candidate. There was dancing from local groups, some made up of adults only, others made up by kids, as well as a type 1 choir who sang a song.
Pop4Diabetes also gave out some awards to a few kids with Type 1 who had achieved good things over the years. It was lovely to see the smiles on the kids who received these awards and the pride beaming on theirs and their parents faces.
I really enjoyed the event but for me the highlight was being able to spend some time with DRWF and their supporters, and especially being able to chat all night with Lee (DRWF), chatting through all topics Type 1 related.
Pop4Diabetes was a great event, Iris has done well to pull it together and raise thousands of pounds yet again for charity.
The Bournemouth Echo did a nice write up about this year's Pop4Diabetes event if you would like to read more.